2013 Blown Engine

02-28-2019, 10:43 PM
JK Enthusiast
Join Date: Oct 2013
Location: Ramona, CA
Posts: 435
Received 0 Likes on 0 Posts

2013 Blown Engine
---
2013 JKU Rubicon. Religious oil changes. 42k miles crank bearings ate themselves. I told the dealership this is not something that should be happening on an engine with 42k miles. They said no it shouldn't but it will be 10 grand if you want us to fix it. Towed it out of there to a shop for a full rebuild for $5200 100,000 mile warranty. Way to go Chrysler.

03-01-2019, 04:34 AM
Super Moderator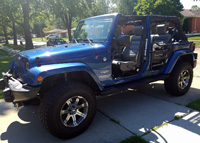 ---
So I'm guessing you're outside of the 5 year/100K mile power train Warranty? Hopefully, someone else can chime in but I do recall FCA extending the power train warranty on 2012/2013 JK's due to some engine related problems. I would definitely look into that if I were you. You may be able to get reimbursed for your $5200 expense.

That definitely stinks. I would be fuming and running a flag up whatever poll I could find. Listening to a single dealership, unfortunately tends to leave you with bad information because they're often lazy and don't go out of their way to seek a better solution for you.
---
Last edited by Rednroll; 03-01-2019 at

04:39 AM

.

03-01-2019, 04:57 AM
JK Junkie
Join Date: Feb 2012
Location: brick, nj
Posts: 2,830
Likes: 0

---
I've been following this forum daily for 7 years. I think this is the first post I've ever seen about a 3.6 motor blowing up. The extended warranty to 150,000 miles for the 2012 and early 2013 was for the left side head issue. Seems to me yours must have had some latent defect.

03-01-2019, 12:27 PM
Super Moderator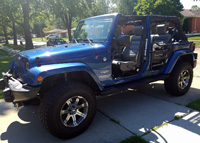 ---

03-01-2019, 12:29 PM
JK Jedi

---

03-01-2019, 01:37 PM
JK Newbie
Join Date: Jan 2019
Location: Arizona
Posts: 26
Likes: 0

---
That's sucky, a failure like that at only 42k (assuming proper maintenance) is very likely some kind of latent manufacturing defect.

For $5200 I hope you're getting a fully remanufactured (not just rebuilt, there is a big difference) engine from Jasper or another high-quality vendor. A Japser reman is about $4,400, plus installation.

03-12-2019, 08:56 PM
JK Enthusiast
Join Date: Oct 2013
Location: Ramona, CA
Posts: 435
Received 0 Likes on 0 Posts

---
I have checked around a bit but unless I want to spend more time an probably money than I care too it's probably mute. I had options for a cheaper engine but at the end of the day I would have saved at best 2 grand and still not had a warranty and have had to deal with any installation issues that arose. 2 grand plug and play with a 100k. Mile waranty sounded like a deal to me. This does not seem to be a regular issue so I suppose I can chalk it up to just my luck. Anyway I should have her back this week!
---
Last edited by rsbmg; 03-12-2019 at

09:02 PM

.