2015 wrangler clutch/transmission problem

02-09-2019, 01:35 PM
JK Newbie
Join Date: Feb 2019
Location: Springfield VA
Posts: 3
Likes: 0
Recieved 0 Likes on 0 Posts

2015 wrangler clutch/transmission problem
---
Hi my name is Brian and am new here and recently bought a 2015 Jeep Wrangler sport manual transmission. I bought the jeep about 4 weeks ago. I have noticed on longer trips 20-45min that it is hard to put in to 1st gear and reverse. Some times I have to turn the engine off to get in gear. I tried bleeding and flushing clutch/brake fluid and then replaced the slave cylinder: No change and still hard to get into gear. I noticed when the slave cylinder was out the clutch is a centerforce. Any ideas or anyone have this issue? I am planning on replacing the clutch master cylinder when it comes in Tuesday. If that doesnít help I guess I will have to take it to the dealer.!

02-09-2019, 04:37 PM
JK Junkie

---
Folks aren't crazy about the Centerforce clutches. I've got a stock 2016 with Mopar clutch and then a 2010 with a stock then Spec 1+ clutch- no issues in either vehicle.

02-10-2019, 12:47 AM
JK Jedi Master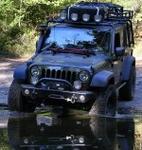 ---
Mine does this (1st gear and reverse problem) and I have a Centerforce clutch. This is the second CF clutch I had (have never had a clutch wear out in past 253,0000 miles, but have replaced due to bad throwout bearings). The first clutch ran great. This second was fine for the first 10,000 miles or so. I have to do the same thing to get it into gear sometimes (turning off the engine). With this second replacement (at about 200,000 miles) I had the entire guts of the clutch replaced, minus the flywheel, which was resurfaced. Not sure I'm ready to blame it on the clutch, but ...?

02-10-2019, 08:58 AM
JK Newbie
Join Date: Feb 2019
Location: Springfield VA
Posts: 3
Likes: 0
Recieved 0 Likes on 0 Posts

---
I have started to think itís the shift fork inside the transmission as that seems to be an issue with these transmissions? I have a clutch master cylinder ordered that should be in early this week. Iím going to try that next. Otherwise I have to take it back to the dealer I got it from which I donít really want to do.

02-10-2019, 11:49 PM
JK Jedi Master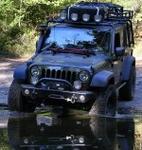 ---
I hope that does it for you. But, the last time I replaced my clutch I also replaced the shift fork and the ball it rides on. That was the time it went about 10,000 miles before it started doing it all over again. Anyway, please do keep us (me!) posted on if you arrive at something definitive that solves this.

02-12-2019, 08:07 AM
JK Newbie
Join Date: Feb 2019
Location: Springfield VA
Posts: 3
Likes: 0
Recieved 0 Likes on 0 Posts

---
The Clutch master cylinder came in today but going to hold off on replacing it. Iím going to replace the clutch, pressure plate, release bearing and pilot bearing with stock some time this week. It never fails that when I have to work on my own vehicle I get swamped at work. Have a rear main seal on a v8 grand Cherokee, Honda Pilot engine replacement, head job /timing belt on a Subaru and of course pull the trans on our Jeep to figure out the issue/!replace the clutch. Will update later this week. Thanks