Door hinges

01-29-2019, 08:42 AM
JK Newbie
Join Date: Nov 2018
Location: Wexford PA.
Posts: 3
Likes: 0
Recieved 0 Likes on 0 Posts

Door hinges
---
I have a 2012 that I just got and the door hinges paint are all bubbling off. Is it easier just to buy after market hinges instead of trying to fix them and it will probably do it again. I had 2011 and they were perfect.

01-29-2019, 11:21 AM
JK Jedi

---
If you want to match the paint again, you can get a small can of Mopar color matched spray off Quadratec, or another option would be various other automotive touch up spray paint venders. I've used these guys for a couple colors on different vehicles, and have been happy with the product each time -
https://www.automotivetouchup.com/
I'd tell you that $20 for a can might look rich, but it is a full-sized can, not one of those little 5oz jobbies like Mopar gives you. It doesn't stretch as far as normal rattle can due to often having metallic flakes in many of the colors, but it is handy to have in general.
Another option......if you don't mind them being black or different color, buy some vinyl and wrap em.......or if you wanted to be snazzy....do a hydro dip.

01-29-2019, 12:50 PM
JK Junkie

---
Whatever you do, when you reinstall try make sure that the aluminum metal is fully coated with no bare metal showing. The bubbling is caused by galvanic corrosion. Removing any metal to metal contact with the door or body will significantly improve the resistance to this corrosion.

01-30-2019, 05:00 AM
JK Junkie

---
My hinges are bubbly on my 2012. I've told myself that if I ever take them off and put them back in again I would put a thin sheet of nylon to act as a gasket, and also put sealant in the fasteners. I am an engineer making evacuation slides for Boeing airplanes. I've learned a lot in recent years about galvanic corrosion and Boeing's methods to prevent it. Basically you need to find ways to prevent the electrical pathway between your dissimilar metals. Carbon fiber also acts like a metal and has bad galvanic corrosion when in contact with aluminum.

01-30-2019, 09:34 AM
Super Moderator
Join Date: Jun 2011
Location: Hendersonville, Tennessee
Posts: 10,687
Likes: 0

---
Make sure to do the drilled mirror mod. One of the main culprits that cause the corrosion is where water gets stuck inside the mirror and leaks behind the door. Very simple free fix that works.

02-07-2019, 09:08 PM
JK Newbie
Join Date: Nov 2016
Location: york
Posts: 58
Likes: 0

---
Rustoleum made a spray primer for aluminum. You can also use marine primer intended for outboard motors and outdrives. You can clean them down, prime them, and buy the chrome-look plastic covers on Ebay (and others) for about $25. Of course, having black for a color makes repainting easy.

With the screws going through the hinges, I don't think there is a way to isolate the metallic contact.

02-08-2019, 12:29 AM
JK Jedi Master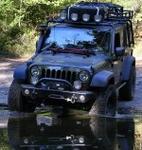 02-08-2019, 05:31 AM
JK Junkie

---
Where the screws go through, you can't completely isolate metal contact. However, the galvanic corrosion also requires a moisture path. If you keep the water out, then the corrosion will be significantly inhibited. We use a sealant in our aerospace components. PN is PR-1775 or PR-1771. You can do a search for corrosion inhibitive sealant.