Heat works only on passenger side

11-26-2018, 01:15 PM
Super Moderator

---
You likely have a plugged heater core or blend door that's not working. Do a search (google is best for this) for 'JK heat only works on passenger side' and you'll find bunches of references to this. Most cases it ended up as a replacement heater core.

12-07-2018, 02:44 PM

Pass heat only
---
My 2012 does that when the coolant level gets low. My thermostat housing leaks. Found out by using a rental pressure tester from autozone. For temporary cold relief raise front wheels about a foot and add coolant to radiator inlet.

12-08-2018, 02:37 PM
Super Moderator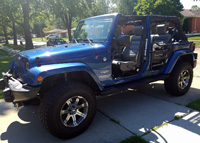 12-09-2018, 11:26 AM

---
My 2012 did the same thing. I had to replace the heater core last winter. I still got great heat this winter. Theres a thread on here how to replace without having to remove the whole dash if thats your problem.

12-29-2018, 08:02 AM
JK Newbie
Join Date: Dec 2018
Location: Chicora PA
Posts: 3
Likes: 0
Received 0 Likes on 0 Posts

---
Just dealt with this problem the last few weeks. Daughter bought a 2011 Wrangler that she loves. We had to fix a few things here and there but for the most part has been a good vehicle. Cold weather hit here about 6 weeks ago and she discovered little to no heat out of her driver side vents. I checked coolant levels, thermostat, etc and the only thing we noticed was that the radiator and reservoir seemed to have some gunk. Took the jeep to our local mechanic and he did a thorough coolant flush. Still no heat on the driver's side. I warmed up the jeep to operating temps and hit each one of the heater core hoses with my IR thermometer. Inlet temp was around 180 degrees and oulet was about 90 degrees. Figured the heater core was plugged and would need replaced. I backflushed the heater core with the garden hose. Surprisingly I didn't get much gunk or discolored water and had good flow. As a last gasp effort, I switched the input/output hoses to the heater core. Topped off the radiator and took it for a test drive. Drivers vents had more heat than before but still not 100%. My daughter drove it this way for 2 or 3 days and whatever blockage was in the heater core must have come loose when we reversed the flow direction. She has full heat now to all vents. I realize that whatever was blocking the core is now in the coolant but doing another flush is much easier than changing out the heater core. Fingers crossed that it continues to work.