I am 28 and have been changing oil since I was 16...

05-31-2008, 06:36 PM
JK Freak
Join Date: Aug 2007
Location: Abilene, Texas
Posts: 833
Likes: 0
Received 0 Likes on 0 Posts

---
Yeah, now that I think about it, I went to crank my oil filter, and it gave like it was nothin....
And when I think pressurized, I mean like a sealed tank or somthin.. I know what you mean about how it shoots out at first....

05-31-2008, 09:59 PM
JK Enthusiast
Join Date: Mar 2007
Location: Seattle, WA
Posts: 291
Likes: 0
Received 0 Likes on 0 Posts

---
My first oil change, it was a real pain to get that filter off too. Couldn't get my filter wrench to grab on tight enough to turn it. Just kept slipping.

Finally, I grabbed a long strib of that 3M double-sided sticky foam, and put that on the inside of the wrench's metal strap to stop the slipping. Had to lean on it like a mother, but it came off.

But tell you what, knowing how bad all the Chrysler service departments are, I don't let them touch my baby with a ten foot pole.

06-01-2008, 02:35 AM

---
Originally Posted by
JulietKilo
My Jeep hit 2500 miles today and the CHANgE OiL light scrolled across the screen on my dash.
SO I changed the oil. Guess what the new Jeeps have permanant mounted oil filters. Amoung that the oil is under 100 psi when you take the oil plug off and oil shoots half the lenght of the Jeep and missed the oil catch pan. I have never in my life made such a mess in my garage. The biggest problem was that most oil filters have little residual oil in them. When I finally got it removed oil came spewing all over my front axle and down the side of the oil pan in the front. That isnt the worst part... The filter would not budge at any angle I approached it. Stupid new jeeps must have those things turned tight by a machine at the factory. This thing would not BUDGE! I GOT A BIG HAMMER A SCREWDRIVE AND DROVE A STEAK INTO THE HEART OF THAT BEAST, IT WAS A BLOODY OR SHOULD I SAY OILY MESS!
I have always thought that people that use a screwdriver to remove the oil filter were redneck good ole' country boys. Until today. I did it and it worked but I made an oil spill that will take the EPA to clean up.
That oil does shoot out of there! As for the filter, it is a mess, but not anymore than it was on the TJ. On my fiances Liberty they have a neat design. It has the horizontal mounted filter on the front of the engine, and they designed a catch for the oil and it runs down a little track and then straight into the oil container. A good idea!

06-01-2008, 02:37 AM

06-01-2008, 02:55 AM
JK Jedi Master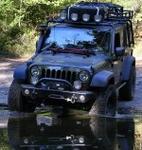 ---
Hey, don't you be dissing C-130s (I have 4500 hours on 'em)! And, having been assigned at Udorn for 2-1/2 years, I know where NKP is!
Back on topic: The JK's oil is a pain to change. I picked up large map designed to put under vehicles to protect the garage floor (if you're too lazy to fix a leak) and put that down now when changing fluids.
---
Last edited by Mark Doiron; 06-01-2008 at

02:59 AM

.

06-01-2008, 05:08 AM
JK Enthusiast
Join Date: Feb 2007
Location: Michigan
Posts: 348
Likes: 0
Received 0 Likes on 0 Posts

---
I think the oil shoots out faster because it is 5w20. My Ford truck (sold) used the same oil and had the same drain pattern.

The engines at the factory do not get the oil filter gasket surface lubed before assembly. I've worked in several DCX (now Chrysler) engine plants and not one of them had any process to lube the filter or gasket surface. And the filters in the rack at that station are dry.

I use a washing machine overflow pan as a drip pan with a drain pan on top. They have them at Home Depot or other such home places. It has a perfect height lip that will catch all your messes, but still allow you to reach around it. It is acceptably huge, but still fits between the wheels of any car, truck, SUV, or Jeep. It is also cheap.