I smell antifreeze!!

02-10-2019, 11:39 AM
Moderator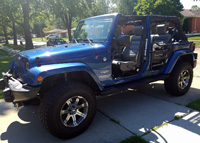 Join Date: Apr 2010
Location: SE Michigan
Posts: 3,747

---
The radiators have been known to leak from the end caps either on drivers and/or passengers side. However, a pressure test should be able to expose that problem and seeing as though you've had multiple radiators replaced I would guess your leak is somewhere else.

The heater core is another potential leak area, where it tends to leak at the elbow joints. That would also be difficult to see the leak during pressure testing since it's mounted inside behind the center of the dash. To check this, you could purchase a 5/8in ID piece of heater hose and bypass the heater core, and if your coolant smell disappears then you know the HC needs to be replaced.

Another common hard to find leak area is the Lower Intake manifold gasket. However, that is a problem which seems more common on the pre 2012 3.8L JKs or I just haven't seen anyone post that they needed to replace the LIM on the 2012+ 3.6L.

The thermostat housing is a more common leak area on the 3.6L as well but should be found with pressure testing. Then there's also the possibility of the water pump.

Hopefully, that gives you some ideas of where to inspect. I'ld start with the heater core.
---
Last edited by Rednroll; 02-10-2019 at

11:43 AM

.