Overheating!

07-13-2019, 03:46 PM
JK Newbie
Join Date: Jul 2019
Location: el paso
Posts: 2
Likes: 0
Received 0 Likes on 0 Posts

---

07-13-2019, 06:24 PM
Super Moderator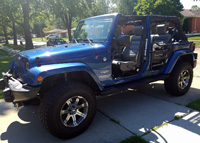 ---
It wasn't over heating prior to water pump change or after the thermostat change?

Some thermostats are bad out of the box where if it's not opening around the standard 205 deg F, then that could be causing overheat problems. Which brand of thermostat? OEM Mopar or other?
Which brand of water pump? OEM Mopar or other?

What about coolant type? You should be using OAT type for a 2014 with the 3.6L. Mixing OAT and HOAT (3.8L) coolants will cause gel to form and can lead to overheating issues. You or shop didn't happen to mix different types of coolants by any chance?
You can typically, look at the bottom of the overflow container to see if gel is forming if coolants have been mixed.

If you're certain coolant level is good, coolants haven't been mixed and assuming the thermostat and water pump are good, then you're down to potential radiator, and cooling fan problems.

My suspicion of most likely cause would be possible coolant type mixing since it's an easy mistake to make and has been a mistake made by many shops.