Parking brake adjustment

06-11-2019, 12:36 PM
JK Newbie
Join Date: Sep 2016
Location: Audubon, NJ
Posts: 30
Likes: 0
Received 0 Likes on 0 Posts

Parking brake adjustment
---
Hey all, tried posting this elsewhere and received no responses. I recently replaced my parking brake pads, springs, etc. on my 2011 JK. I adjusted them as per video and forum instructions using the star knobs on both sides until the rotors slightly dragged. I checked the parking brake handle and it was still going 10 clicks as it did before I replaced everything. I then removed the rotors and adjusted the pads out using the star knobs until both rotors were hard to get back on. I reinstalled the rotors and further adjusted them until they barely moved. I again checked the parking brake handle and was still getting 10 clicks (almost up to the console lid). What am I doing wrong here? From what I've read this is the only way to adjust the handle.

06-12-2019, 01:31 AM
JK Jedi Master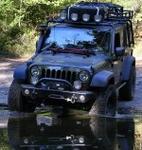 ---
---
Last edited by Mark Doiron; 06-12-2019 at

01:36 AM

.

06-12-2019, 06:02 AM
JK Newbie
Join Date: Sep 2016
Location: Audubon, NJ
Posts: 30
Likes: 0
Received 0 Likes on 0 Posts

---
Well it looks like I may either have to do the spring mod or order a new assembly. My brake lever doesn't pop at all like what others are posting and it goes up smoothly to 10 clicks, (right up to the console). I thoroughly sprayed the spring mechanism with brake cleaner and cycled the lever but no difference. My driveway has a very slight incline, I put my jeep in reverse at let it idle backward. At 10 clicks it couldn't stop it until I was out of the driveway and almost across the level part of the street.

06-12-2019, 08:06 PM
JK Newbie
Join Date: Dec 2012
Location: San Diego, CA
Posts: 35
Likes: 0

---
I have the same problem and have been fighting it for years now. I replaced the shoes and adjusted them down as far as I could,and added springs, bungees and wire to tighten everything up on the handle. The springs and bungees worked for a few weeks, then the brake was back to not working. I have not tried brakleen yet, might go try that now. So far nothing has worked and Ive essentially given up. But, every once in a while the brake actually works for some reason. Im baffled