Rear clunk - Dealer warranty fail help (Jeep Cares)

09-14-2018, 09:02 AM
JK Newbie

Rear clunk - Dealer warranty fail help (Jeep Cares)
---
I've had my 2016 JK for a little under a year now. It's my 3rd JK so I know all the usual noises and used to work on them so no my way around. When starting from stop or light acceleration when coasting I get a light thunk faint clang, like if you lightly hit a metal table top with rubber hammer sound I can feel in my butt slightly. Developed a few months ago. It sounds driveline like loose driveshaft to me. There is no noise while driving along and bumps of all sorts and suspension compress does not cause it.

I have read all the threads and know it could be anything from a nut to the differential to who knows. But under warranty so off to dealer I went. So dealer tech says intially it is normal after waiting a few hours. I drive away and decide I want a ride along to confirm we hear the same thing. So we do and he does hear it, let's say about 50% of stops or so.

He says I don't think it's driveline, let me check torque on LCA's nuts as sometimes the T nuts hit the frame, He does this, and says its just what it is if it stays.

Well no, I left as it was I was not going to get further help. I think they are nice enough and mean well but what I have is not "normal".

Question, 1) how much play should be in rear driveshaft if I grab it and twist. It moves and makes a similair sound to what I think I would hear under load.

2) Jeep Cares, what can I do now? Help.

Wrangler is bone stock with 16K mileage.
---
Last edited by JKcity; 09-14-2018 at

09:14 AM

.

09-14-2018, 10:13 AM
JK Jedi

---
When you twist your DS and it moves a bit, you're really just feeling the backlash in the R&P gears, so you should have a little play. That is also not something that is going to happen while driving down the road. Did they check the torque on the upper CA bolts as well, or just the lowers. When talking about a clunk due to weight shifting (shifts forwards as you come to a stop, and then back as you start to accelerate again), you should be looking at things that are moving in that same direction (forward/backward) rather than twisting of the drive shaft. My opinion at least. The one time I can recall having anything like you've described, it was a loose CA bolt. What you might do is pay close attention to the idea of the weight shifting back and forth and see if you can pinpoint any further circumstances this is happening, or if you can recreated it at a will.

09-14-2018, 10:56 AM
JK Newbie

---
It's definitly as it rocks back noise and only shortly right after you start off or when coasting relatively slow and then get on gas. He did "tighten" the upper CA's but I don't think he used a torque wrench. He said he got a couple turns, for whatever that is worth.

I do note the tab on the T-nuts on the CA bolts are close to or against the mount part.

Given it is under warraty I am not too inclined to mess with it too much but I appreciate your input, I will hunt a little but Jeep needs to solve this one I would think.

09-14-2018, 11:07 AM
JK Jedi

---
If you have a torque wrench, I'd check those. I've seen things under torqued by 10ft lbs or so make noise. Sometimes "tight" isn't good enough.....and suspension is one of those things. Front lowers and all the rears should be 125ft lbs, and the front uppers should be 75 ft lbs.

09-14-2018, 11:22 AM
JK Newbie

---
Are they all 21MM head? Need to order 1/2" drive for my torque wrench, also my manual lists both upper and lower at 125 ft lbs for 2007 and later.
---
Last edited by JKcity; 09-14-2018 at

11:25 AM

.

09-14-2018, 11:56 AM
JK Newbie

---
Got it, the thing I keep thinking about though is no suspension movement ever creates the noise, only on start up acceleration. If it was contorl arm, track bar etc. would I not get some noise other times? That's what led me to think about driveline at least.

09-14-2018, 02:02 PM
JK Jedi

---
Keep in mind that while on road, 99.9% of the forces on those control arms are merely forward and backward. Here's my real world example:

Under torqued rear CA bolt. From a stop, accelerate forward <clunk>....no more cluck until coming to a stop or decelerating enough that weight shifts forward again <clunk>. When starting to accelerate again <clunk> as the weight shifts to the back again.
That sounds very similar to what you're experiencing. the only things that are really could have forward/backward movement like that are the 8 control arms, and the two drive shafts. Although, the drive shaft movement would between the TC and the diffs (forwards/backward, not rotating). That's at least where I'd start with checking the torque on the rear arms yourself. Next, trying shoving the DS back and forth between the TC and diff and see if any play that way.

In the end, I agree, this is jeep's issue to fix if it's not a simple bolt. If you can't solve it with torque wrench, is there another dealer around to take it to? It's neither normal, nor acceptable.

09-14-2018, 03:26 PM
JK Newbie

---
Thanks, of course if need be I have dealer choices, based on experience none get me to confident and reuire taking more time off work unfortunately. I agree with your approach. By the way, no clunk on forward.

09-14-2018, 05:18 PM
Super Moderator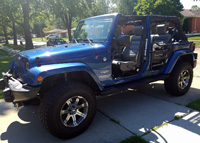 ---
Is it stock suspension or do you have a lift installed?

The reason I ask is to eliminate other potential causes. As one similar example, the Mopar 2in lift is a common lift that dealerships install and will retain your factory warranty, but many of the dealerships have been known to install the rear sway bar links facing in the wrong direction where the bolts of the links have been known to touch the frame rails during acceleration when installed incorrectly.