Rear shock replacement?

07-13-2019, 10:22 AM
JK Newbie
Join Date: Oct 2015
Location: Columbus NE
Posts: 41
Likes: 0
Received 0 Likes on 0 Posts
Rear shock replacement?
---
My 2015 JK Rubi Unlimited Hard Rock Edition's rear shocks are seeping after 6K miles of mostly gravel/dirt and blacktop driving. I want to replace them with a better that OEM quality Red shock without changing the ride height or ride stiffness. The front shocks look OK. he dealer wanted $400+ to replace with OEM shocks. Looking for suggestions as to what shock to replace them with.

07-13-2019, 12:55 PM
JK Junkie

---
Rancho 9000x's- they'll be adjustable and they have a warranty. I've got the 5000x's and they're comfortable but the 9000x's are adjustable firmer and softer than these.

Yesterday, 07:56 AM
JK Jedi

---
Fun times. I recall first time I replaced shocks on the jeep. What seemed like a simple 20 minute task ended up being more fun than I thought it would be.

...specially when installing gas charged shocks. That dang upper bolt for the front passenger is a booger too if I recall. I do think the Ranchos are your best bet as well. Most others are either crap in general or on the stiff side. The red dust boots Rancho uses are about as close as you're going to get to a red shock as well for factory height. Metalcloak RockSports are red, but they are only offered in long-travel form for lifts.

Today, 06:15 AM
JK Jedi Master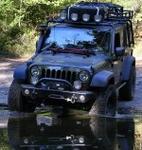 ---
Couple thoughts on the 9000s (I've got about 100,000 miles on some):
The adjustment is a plastic knob and shaft. After a bit it may lock up such that if you rotate it, it will break (mud gets trapped in there). So,don't think of it as adjustable for the terrain, but rather, adjustable so you can set it early on to the best compromise. Or, buy those cheaper 5000s. ;-)
That adjustment knob is exposed to possible damage crawling over rocks and such. This is especially so on the rear axle, even (for me) with the EVO sliders welded on.
I have a 2.5" lift and found that I had the wrong length on the rear axle. Not sure how that happened, but I did have to replace with longer shocks for the rear: Kept pulling the shaft out of the shock cylinder (did it twice, once on each side). Anyway, suggest measure carefully if your Jeep is modified, and don't be surprised if you get different answers for front and rear.

Today, 07:23 AM
JK Junkie

---
So Mark, you've got some serious miles on them- would you buy them again or are you looking for something different? The 5000x's are nice IMO but they could be a little firmer. The length was something I recognized before I ordered....but then I went and screwed it all up by putting in front and rear shock brackets (outboard the front, raise the rear) so now I need a little more bumpstop but nothing crazy.