Serpentine Belt jumping and very loud clicking noise

05-18-2019, 07:50 PM

Serpentine Belt jumping and very loud clicking noise
---
Hello, I have a 2008 Wrangler Sahara and I have a very loud clicking noise that is occurring in the front part of the engine. I thought it was the power steering pump that was the cause because there was a what I thought an unusual amount of play or a bit of a wobble in the pulley shaft when I manually turned the pulley. Turns out after I replaced the power steering pump that was not the cause. Also, the if I watch the belt tensioner (which I have also replaced as I thought it might be a bad bearing), it is flexing quite a bit in sync with the clicking noise. Also, the belt works it way off outward on both the power steering pulley and the pulley located next to the alternator. I am on my second belt tensioner and belt since I thought the tension was defective. If I remove the belt completely, the noise is gone. When I reinstall the belt, the noise immediately returns. Maybe one of the impellers in the water pump broke off and is rattling around? I haven't had any over heating problems, but then again I am not driving it around since this rattling/clicking noise started. Any thoughts on what else could be the cause?

05-19-2019, 08:25 AM

---
Latest update.
I just pulled the water pump and there is no visible damage, although if I shake the water pump aggressively in my hands, there is what I describe as a slight rattle. Wondering if under load and spinning at high RPM a bearing is trashed. I've ordered a new one and waiting for it arrive to install later this afternoon.
Will update when I know more.

05-20-2019, 02:23 AM
JK Jedi Master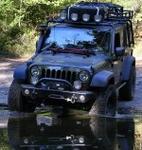 ---
Thanks for the update. Have you taken a mechanic's stethoscope to the area by the various pulleys (not directly on a spinning pulley, of course)? Sometimes they can be surprise with a quick answer to the problem.

05-20-2019, 04:59 AM

---
So it turned out to be that the harmonic balancer worked its way forward off the crank by almost a half inch. So the belt was out of alignment causing the jump and the loud clicking noise. You'd swear I blew a bearing somewhere based on the noise, threw me off as I had no idea a belt could make that kind of noise similar to metal clanking/clicking noise, but it did. Lesson learned.