Purchasing a TJ, Opinions Wanted

02-04-2019, 05:20 PM
JK Enthusiast
Join Date: Jun 2011
Location: Manchester, NH
Posts: 241
Likes: 0
Liked 0 Times in 0 Posts

Purchasing a TJ, Opinions Wanted
---
Hi all, my wife and I are looking to purchase a TJ as a 3rd vehicle for those snowy New England days and some Summer fun, and wanted to grab your opinions.

Seems that for around $5,000 - $7,000 here in NH I can get a 2000 - 2005 TJ with around 150K miles.

For around $9,000 - $11,000 I can get the same TJ with 70K miles or so on it.

Assuming both are optioned similarly, and have solid frames / minimal rust, would you pay an extra $4K for the lower mileage?

Looking at an automatic 4.0L and we'll probably put 8K miles or so on it per year.

We also plan to put a small lift in it, so we'd be replacing the suspension.

What do you guys think?

Thanks!




02-04-2019, 11:49 PM

---
Make sure you go with the 4.0....don't even consider a 4 cylinder.
I personally would prefer the 70 k on the clock because I tend to
keep vehicles a long time........but the 4.0 is a strong motor and
taken care of should be fine.

02-05-2019, 05:37 AM
JK Jedi

---
I'd agree with only looking at 4.0L's, but for something that is an extra vehicle/toy, I'd lean towards saving the money and sacrificing mileage. Those jeeps are easy to work on in regards to regular maintenance items, and that motor should last a long time if taken care of. If you were looking for a year-round DD, then I'd maybe say the premium for the lower miles is worthwhile.

02-05-2019, 05:50 AM
JK Jedi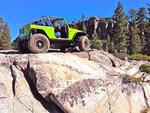 Join Date: Oct 2010
Location: Southwest Reno, NV
Posts: 5,123
Likes: 0

---
There were changes made to the TJ in 2003, not big changes but I would look for a 2003-2006 if you can find one. If you plan to keep a long time I would invest in a lower mileage one.