Antenna Cable Question

11-25-2017, 10:28 AM
JK Super Freak

Antenna Cable Question
---
Is there any advantage to a shorter or longer antenna cable, or is it a wash, given a correct tune for each?

I'm deciding which side of my Jeep to run the antenna cable to my new hood antenna mount. I'd like to go 9' and run it through the driver side firewall, but I've already got cables crammed in there from auxillary lights and I'm not sure I can squeeze even the low profile connector through it. The passenger side would require an 18' cable, but that firewall opening is wide open, so I know I could easily run it through there.

I want to know if there is an advantage to either before I make the final decision as to which to order.

12-02-2017, 09:31 AM
JK Jedi Master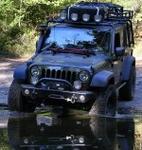 ---