Showing off my favorite picture of my JKU

02-08-2019, 12:20 AM
JK Jedi Master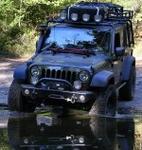 ---
That's a really great shot. I've traveled a couple times though parts of Nevada and wish to return for a more extended overlanding adventure in the state. Certainly some wonderful possibilities.

02-08-2019, 07:48 AM
JK Newbie

---
Thanks! Nevada is really great for off roading. Thousands of miles of open spaces and public trails.