Need help

01-22-2018, 08:07 AM
JK Newbie
Join Date: Jan 2018
Location: Wilmer Alabama
Posts: 1
Likes: 0
Received 0 Likes on 0 Posts

Need help
---
I am getting a 2 door jk soon and am ordering parts now. I am ordering a 4in lift but need help deciding on 35s or 37s. I see some people that say 35s are too small but I do not know. Any suggestions?

01-22-2018, 08:15 AM
JK Jedi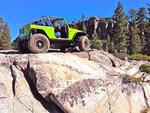 Join Date: Oct 2010
Location: Southwest Reno, NV
Posts: 5,161
Likes: 0

---
I would suspect you are looking at a budget 4" kit like from Rough Country or other in the same price range. This is a huge mistake for a new jeeper as they are missing a lot of parts and perform poorly. Typically 2" of lift is plenty for 35's and 3-4" for 37's. Of course there is the issue of gears with the tire size and that is often ignored by the new jeep owner. Gears typically run $1500-$2500 depending on where you are and are not a do it yourself job for most people.
Typically it runs around $3-5k to properly run 35's and it is very easy is very easy to rack up $10k to properly run 37's. If you are new to jeeps don't start with a 4" lift and drive the jeep for a while before you jump into big tires and list as there are many other things that go with it and you don't want to do things over and over because you went cheap and incomplete to begin with.

01-22-2018, 08:21 AM
JK Junkie

---
If your Jeep has 3.21 gears the 35's will be barely tolerable and the 37's will be downright horrible. I don't think anyone on here would say going to 37's is a good move without a gear change. 35's will be ok if you have the 4.1 and will be tolerable if you have 3.73. What gears does your Jeep have and are you willing to spend a lot of money to change them?

01-22-2018, 09:53 AM
JK Jedi

---
Can't argue with anything said here so far. Jumping in to a 4" lift is more often than not a lesson that will be learned the hard way. It will most likely be a costly lesson at that. I traveled the tough path myself and came out the other side, so I know how it is. Unless you have a very healthy budget, I might suggest sticking with 35s for the time being if you're going down that road. It will be a bit more manageable to live with factory gearing for the time being, and you're going to realize all sorts of expenses you didn't plan for up front. It's just not cheap to lift. Building for 35s and 37s is not much different. Once you're ready for that second set of tires, make the jump then if you still want to. You could even sell the 35s mid-life and move up then. Just saying, this endeavor probably gonna cost you more than you're planning on it. I'd urge you to really think about the build, research EVERYTHING you're gonna need to address, and set a realistic budget.

01-23-2018, 06:33 AM
JK Enthusiast
Join Date: Apr 2012
Location: Calgary, AB
Posts: 397
Likes: 0

---
I run around with 35s on a 2 door with a 2.5" lift and it's a monster off-road. I have run with guys who do a 3" lift and 37s and they didn't have any issues scraping bottom like I did but I could follow fairly well. YMMV but if you're just going for a weekend cruiser 37s would be awesome but the stock axles won't hold up to the abuse. The 35s have worked well for daily driving, weekend trails, rock crawling and overlanding. 37s limit you due to fuel economy loss.

Like others have said, the kit you choose is important, but for daily driving on 37s I would recommend a stronger front axle, at least better brakes, much higher than stock gearing and don't forget the driveshafts.

01-25-2018, 05:27 AM

---
I just have to say, "why?"

Why do you want a 4" lift or 35+" tires?

But that's me. There's a reason for everything. If it's just for appearance on a 95+% street-driven Jeep (which is, far and away, the reason most people do this) then you are likely to be disappointed in the performance, cost, durability and driveability. A couple of months after you get the Jeep + lift + tires you will be coming here asking how to cure death wobble and bent axle and why do I only get 11mpg and that one time I went off-roading why did some guy in a bone stock TJ run all the trails that I could run?