View Poll Results: Snow Chains - Front or Rear???
Front
1
16.67%
Rear
5
83.33%
Voters: 6. You may not vote on this poll
Snow Chains - Front or Rear???

03-12-2019, 07:13 AM
JK Newbie
Join Date: Jun 2016
Location: Parker, CO
Posts: 15
Received 0 Likes on 0 Posts

Snow Chains - Front or Rear???
---
When you only have one set of snow chains and the situation calls for them, do you put them on the front or rear tires? And why?

03-12-2019, 07:23 AM
Super Moderator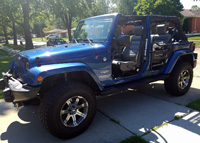 ---
I vote rear.

My reasons.
1. The JK is a part-time 4WD vehicle which means the majority of the time you're in rear wheel drive and the chains will add traction to those rear wheels which are always engaged.
2. There is less weight on the tires in the rear and therefore automatically you will get less traction from the rear tires than the front tires even when in 4WD.
3. chains in the rears will help keep your back end from sliding around on you.
4. I grew up in a small country town where farmers often put chains on their pick-up truck tires. They often ran chains just on the rears, but I've never seen anyone ever run chains just on the fronts.
---
Last edited by Rednroll; 03-12-2019 at

07:27 AM

.

03-12-2019, 04:20 PM
JK Jedi

---
This is something I have ABSOLUTELY ZERO experience with, but chiming in to subscribe out of curiosity and learn something. Before reading Rednroll's response, my logical thinking, which may be flawed, was that you'd put them on the front. I figured you wouldn't be using chains if you were not already in a situation you were using 4WD, and that putting chains on front would give you more traction up front....similar to a front wheel drive vehicle....pulling you along rather than trying to push you in poor conditions.

for #3 above, if you put them on the rear and had good traction, wouldn't your front end still be all loosey-goosey, and you'd just be pushing the vehicle where the front end was sliding?

03-12-2019, 07:45 PM
Super Moderator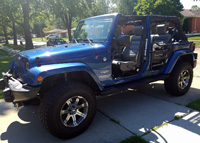 ---
What tends to happen more in the snow is when you're not in 4WD is that your front tires will kind of get pushed along. Especially, when you apply the brakes. Since there is the weight of the engine on the front tires and there is typically more brake applied in the front when you brake, then those front tires will get pushed along and slide on the snow/ice and when that happens your back end then tends to swing around and fish tail.
I know you've likely not driven a snowmobile before, but it's really the same concept. The skis in the front get pushed along and are able to still steer but the track in the rear is doing the pushing and keeping you going in a straight line. Chains on the rear tires essentially act like the track of a snowmobile and dig into the snow/ice and do the pushing.

03-12-2019, 08:23 PM
JK Jedi Master
Join Date: Jan 2008
Location: Texas
Posts: 10,931
Likes: 0

---
Still stock? Don't know if the owners manuals have changed since '08, but ...
TIRE CHAINS
Install chains on rear tires only.
Tire chains may be installed on all models except the Sahara and Rubicon.
Follow these recommendations to guard against damage and excessive tire and chain wear:
˛ Use chains on P225/75R16 tires only.
P245/75R16, P255/75R17, P255/70R18, and LT255/75R17 tires do not provide adequate clearance.
˛ Use SAE class "S" tire chains or traction devices only.
˛ Chains must be the proper size for the vehicle, as recommended by the chain manufacturer.
˛ Follow tire chain manufacturer's instructions for mounting chains.

03-13-2019, 08:34 AM
JK Enthusiast

---
The reasoning behind the owner's manual concerns with usage of chains has to do with clearance issues. On a stock vehicle, this means rear only, and a no-go on Rubicon/Sahara. If you're modified with a lift, lower backspacing, etc. and have enough clearance to run chains without risk of impact, then it's not an issue.

If you manage to get a chain/cable caught on something while moving, you're gonna have a bad time!

03-13-2019, 08:54 AM
JK Newbie
Join Date: Mar 2015
Location: Deadwood S.D.
Posts: 80
Received 0 Likes on 0 Posts

---
I'm from the black hills of South Dakota, and when I used to go hunting with dad in his chevy pickup.. we always put them on the front.. works great going up and controlling your decent. may or may not be right.. but it worked for him.