Steering back and forth

02-05-2019, 03:36 AM
JK Newbie
Join Date: Feb 2019
Location: Ohio
Posts: 1
Likes: 0
Liked 0 Times in 0 Posts

Steering back and forth
---
So I just bought a 2015 Wrangler and while I'm driving it keeps me busy. Seems like I'm always correcting the steering to keep me going straight. Like I'm driving on a windy day. Is this normal? Any way to fix this?

02-06-2019, 07:22 AM
Super Moderator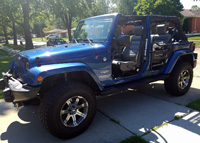 ---
It looks like there is a lift kit installed. You will want to check to see if whoever installed the lift used anything for caster correction. Most lift kits don't include anything within the kit for caster correction, although it is needed after lifting. It would also be good to take the Jeep to an alignment shop and have them get your actual alignment numbers and then post them since steering related issues are often easier to diagnose after knowing the alignment numbers. Most likely cause based on your symptoms is that caster is on the low side of where it should be. To answer your question, no this is not normal.
This video explains what you are likely experiencing due to having low caster....along with some humor.
Keep in mind, this would be my best guess based on your symptom description. An alignment check would confirm or not. If alignment specs are ok, then it's possible you may have unbalanced tire related issues.
The most common methods used for caster correction are Geo brackets, Cam bolts, and replacement front lower control arms. If you don't know what these items are, then I'ld suggest snapping a pic of your front lower control arms where they attach to the axle and the frame and we can tell you what you have or don't have for caster correction.
---
Last edited by Rednroll; 02-06-2019 at

07:31 AM

.

02-06-2019, 11:40 AM
JK Jedi

---
That description seems pretty extreme for it to be low caster, but idk. I mean, I drove with ~2.8* caster for probably a year before I figured all this crap out, and although not great, it wasn't THAT bad. The only thing that comes to mind when pondering the OPs explanation, is what it's like driving right after installing new BJs that hadn't broken in yet......but I'd guess it's not likely previous owner replaced BJs on that right before trading it in.

02-06-2019, 11:23 PM
JK Jedi Master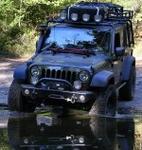 ---
Random thoughts:
1. I also thought caster as I read the complaint.
2. If you'd fill out your profile, that would help. The folks trying to help you can then review your list of mods, which may be informative on what might be amiss.
3. Regarding wheel alignment: A ***stock*** JK wheel alignment consists of measuring everything, then adjusting the toe and the steering wheel centering. There is nothing else that can be adjusted. You can pay an alignment shop for that, or you can adjust the toe and steering wheel centering in your driveway in about 15-30 minutes. It helps to have a friend. You may find this link informative. Even if you don't want to do that work yourself, it explains what's going on with an alignment, as well as why you should do something about your caster.
https://wayalife.com/showthread.php/...-End-Alignment
4. Finally, if you decide to have an alignment done at a shop, recommend you find one that specializes in 4WD. And especially if they are familiar with Jeeps. You probably don't want it set back to stock caster, but too much of a good thing can cause other problems. It helps to have someone who is familiar with builds beyond the factory configuration.

02-07-2019, 03:23 AM
Super Moderator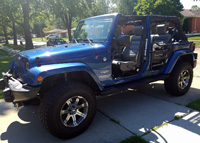 ---

02-07-2019, 05:04 AM
JK Jedi

---
Yup, I'd agree an alignment check is probably first course of action. Also agree that if you schedule an alignment someplace, they'll check everything over and present you with the readings. At that time you can choose to have them proceed with any changes, or can say "nah, I want to think about this a bit", at which point they should pull your jeep off the rack and give you the print out specs with no charge. Now, even though it might be "free", usually what it will cost you is a chunk of your time as places like to go over your ENTIRE vehicle looking for ANY little thing that might need repair so they can upsell you some service. That's kind of how they offset some of the unbilled alignment hours when customers choose not to make the changes. 15 minute alignment turns in to 90+ minutes of waiting. Having alignment specs would be helpful....the caster spec specifically. You can measure this at home with an angle finder on the pinion flange, but there's definitely decent room for error. It's good to have actual specs, especially for something that is modified.