Aries product thoughts?

07-05-2017, 06:11 AM
JK Junkie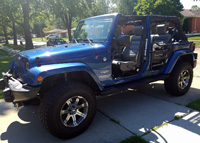 Aries product thoughts?
---
ARIES Automotive | ARIES Automotive
Anyone have experience with any of their products? Are they a new kid on the block aftermarket vendor? I've been on these forums and have never heard anyone mention Aries before. I tried to find some history about them and they seem to have been around since 1990.
I was shopping around for some rear tube doors, getting ready for a trip to Silver Lake sand dunes and thought having some rear tube doors on, would likely make me and the wife riding with the 5y/o kid in the back feel a little more comfortable. While shopping I ran across their tube doors which I really liked the design, functionality, and most of all the price.
I ended up ordering a set of their rear tube doors off of Amazon. $263 for the set. They're made of aluminum, have a nice latch, and I didn't have to buy additional netting for some added tree branch protection, and what I've read from reviews is their powder coating is tough as nails.
https://www.amazon.com/gp/product/B0...?ie=UTF8&psc=1
What I also read is that their stuff is made in the USA, and when doing some comparison shopping, I found their prices were lower than some of the Made in China competitive product offerings. It seemed too good to be true. Made in the USA, and cost less than China parts? That seems like a win/win to me and a very welcome surprise.

So I started looking through their other product offerings such as bumpers, side rails, and fender flares. I really like their styling, it seems more focused on fit and functionality, with a simple look which is what I personally prefer. I really like the price of their aluminum fender flares and styling as well. It reminded me a lot of the MC flares, minus the MC high price tags.
I may have found my new favorite aftermarket vendor.
I haven't received my doors yet. I'll let you know what I think once I do.
Any thoughts? Anyone purchase their products, and what are your impressions?

07-05-2017, 09:47 AM
JK Enthusiast
Join Date: Apr 2012
Location: Calgary, AB
Posts: 396
Thanks: 0

---
When I first got my Jeep I thought that the Airies products looked pretty good (2012). However their pricing didn't really make sense. They were dirt cheap on some products and sky high on others. I had to go through a local dealer who around here like to keep prices hidden. Since I am terrible at negotiating I gave up and went with other products.

07-05-2017, 11:19 AM
JK Junkie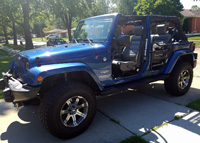 ---
Most of their stuff looks like it is available on Amazon, so no hidden prices any longer if that was the case in the past.
I was also looking at their step rails. For the price, they seem pretty good. I've been waiting on the LOD Destroyers rock slider steps to come out but I think these are now my backup plan. $273 for a set, it seems like a great option.

07-27-2017, 04:55 AM
JK Newbie
Join Date: Jun 2016
Location: Bordentown, NJ
Posts: 16
Thanks: 0
Thanked 0 Times in 0 Posts

---
Did you get those doors yet? I'm curious to hear your thoughts.
I've been eyeing their flares for a while now and pretty close to pulling the trigger.

07-27-2017, 11:01 AM
JK Super Freak
Join Date: May 2011
Location: Covington-ish, WA
Posts: 1,207
Thanks: 0
Thanked 0 Times in 0 Posts

---
I like the look of their fender flares, but the one set I've seen installed didn't have any bracing that tied into the tub of the Jeep like Poison Spyder and the new Bushwacker aluminum flares. So my thought, If you are buying them for looks alone, then you could save some money, but if you intend to use your Jeep, then I'd recommend Bushwacker or PS for the extra strength they add with their additional bracketry.

07-30-2017, 04:59 AM
JK Junkie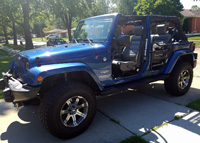 ---
I originally thought having lockable latches on a tube door seemed silly to me for theft prevention purposes. However, what I soon learned is that it's a great feature to have if you think more along the lines of a rear seat child safety locks. Locking the doors prevents the kids from being able to open the doors from the inside while in motion.
The ONLY thing that has been disappointing is that I had read that the Aries products were made in the USA. I learned that to not be the case when I received the rear doors, since the box clearly said made in China on it. So I guess, it was a too good to be true scenario of them being made in the USA while being competitively priced against the other made in China offerings.
If I was in the need of fenders, I would purchase the Aries. Here are some responses in regards to the Aries fenders I received in the same discussion on another forum.
---
Last edited by Rednroll; 07-30-2017 at

05:20 AM

.

07-30-2017, 02:28 PM
JK Newbie
Join Date: Mar 2013
Location: Spring Lake, NC
Posts: 4
Thanks: 0
Thanked 0 Times in 0 Posts

---
I went out on a limb and bought their front and rear fender flares. They look great IMO, they rivet (if you want to call it that) to the body in the original fender holes there, and bolt to the original brackets on the bottom middle of the fenders. I have taken them up and down firebreaks and up and down Uwharrie over the rocks/big A$$ rocks they have there with 0 issues! Lord knows I treat my Jeep like the toy it is but these things are holding up!

07-30-2017, 02:58 PM
JK Super Freak

---
They look like a decent flare, but the ones I have seen leave a little to be desired in the fit and finish department. The welds were rather disappointing, although most of them are hidden. But details matter a lot to me. If those details are skipped, then what else was skipped. But I don't own them, so these observations were just quick.

I will say, in general, when you mount a steel flare to the sheet metal of the fender, without anything backing it up (like JCR and PS do) then I think you've moved the weak point to the wrong part of the Jeep. If I were to run these, I'd look to fabricate a set of brackets to do the same.

08-02-2017, 02:39 PM
JK Enthusiast
Join Date: Oct 2013
Location: Ramona, CA
Posts: 425
Thanks: 0
Thanked 0 Times in 0 Posts

---
Bought the flares. Total junk sent them back immediately and went with Nemisis.