Deisel swap

01-07-2017, 03:44 PM
JK Newbie
Join Date: Jan 2017
Posts: 11
Thanks: 0
Thanked 0 Times in 0 Posts

Deisel swap
---
Alright folks, I know I have to lift for clearance reasons, but anyone have a price point for a deisel engine swap on a 2011 JKU?

01-07-2017, 03:53 PM
JK Super Freak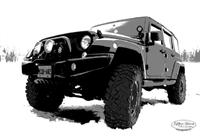 Join Date: Apr 2008
Location: Thunder Bay, Ontario
Posts: 1,262
Thanks: 0
Thanked 0 Times in 0 Posts

---
What diesel? Check out Bruiser custom diesel conversions for the Cummins 4BT but if you want the big Cummins from the pickup that's whole other can of worms.

01-07-2017, 03:56 PM
JK Enthusiast
Join Date: Mar 2011
Location: Central IL
Posts: 198
Thanks: 0
Thanked 0 Times in 0 Posts

---
Cummins is supposed to be releasing a drop in replacement.

01-07-2017, 04:51 PM

---
I had a TJ and tried to price out everything myself that I thought I needed and I might have needed and got to around 8-10 grand without labor. That's with some used and some new parts. 4BT is a very popular engine and it can fit in almost everything and can make quite a bit of power. For a used your going to pay anywhere from 2-5 grand depending on where you are and who you know. Diesel swap is on my bucket list and I will get it done but good luck to you.

01-07-2017, 08:11 PM

---
The kit they are releasing is for 99 and older tjs. More may come later. They are 50 state emission legal swaps so don't think you'll be seeing a jk kit any time soon, the diesel regs got much harder in 2000s.

10-12-2017, 09:49 AM
JK Enthusiast
Join Date: Mar 2008
Location: Vernon Hills, Illinois
Posts: 259
Thanks: 0
Thanked 0 Times in 0 Posts

---
Bruiser now has anawesome and exclusive R2.8 Diesel Conversion that is unreal. Check in with them, you will not be disappointed.

10-12-2017, 11:58 AM
JK Newbie
Join Date: Aug 2017
Location: Mecca Indiana
Posts: 77
Thanked 0 Times in 0 Posts

---
I did an F250 Cummins conversion about 6 years ago. I will put a link below. It really depends on if you have emissions where you are located and your budget. Bruiser is cool but really expensive for my pocket. When I put the cummins into my Ford the purchase price of the Superduty, the 89 Cummins truck and the whole swap all in was less than 3k after scrapping the dodge and selling the Ford V10 and trans. I used a 6bt VE pump which is probably what I would use if I did a Jk swap as well. Yes it's heavier than the 4bt but like many people have said....the 4bt is a very pricey engine used. To keep price down try to keep your adapter plates to a minimum or eliminate it all together. Use the dodge trans and t-case if you can find the right combo. My entire engine only had a few wires going or coming from it. I used a gm one wire alternator, Just a positive to the fuel solonoid and one to the starter. Other than water temp and oil pressure that was it. Then you just have to have the axles modified which for me was $175. Put a 2 inch heavy duty lift springs on it and go from there. Might need to brace it up if you're doing heavy off roading but if it's more of a daily driver I would say your good to go. Here is that link
https://www.youtube.com/watch?v=8Y8CeYfo9kc