Measuring LCAs with flex joints and bends?

08-10-2017, 09:59 AM

---
You can get it beside the joint on the face of the flange ? I can get a magnetic angle and my phone on there.

08-10-2017, 11:48 AM
JK Junkie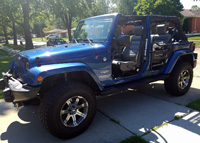 Join Date: Apr 2010
Location: SE Michigan
Posts: 3,260
Thanks: 0

---
The shop alignment numbers are in. They charged me for an alignment, my toe was out some.
Here's where I'm at now with the Front LCAs adjusted to 23 1/16"
This is exactly where I was hoping to be for caster!!! I was worried I was going to be in the low 4's with those 1.5 and 2.0 degree pinion measurements.
Using that 1.3 degree flange measurement, it looks like my pinion angle measurement was off by .5 to .7 degrees
I can say this for certain. I didn't think my JKU rode "bad" previously, when my caster was in that 2.7deg range. I thought it was ok and sometimes it was a bit harsh going over some of the larger bumps in the road, especially driving over parking lot speed bumps and railroad tracks it Would feel harsh. Now that I've adjusted those arms and my caster is in that 5.3 range, it feels like I'm riding in a cadillac. It actually reminds me of the day I drove my JKU home new from the dealership.

08-10-2017, 11:53 AM
JK Junkie

---
Well, glad you got that squared away. That angle finder was off by a decent amount....surprised by that much. Mine was much closer than that, but maybe I just got lucky.

08-10-2017, 11:59 AM
JK Junkie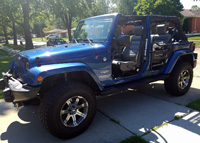 Join Date: Apr 2010
Location: SE Michigan
Posts: 3,260
Thanks: 0

---

08-10-2017, 12:06 PM

---
Yep i was different about 1° , so now you know the difference next time if adjusting CA's.

08-10-2017, 12:16 PM
JK Newbie
Join Date: Sep 2014
Location: Austin, TX
Posts: 12
Thanks: 0
Thanked 0 Times in 0 Posts

---
as far as replacing your joints with MCs, i don't think it is smart move. they aren't designed to bound when level. that's one of the reasons MC has to build their arms with proper geometry. i believe you can replace the RC joints with Johnny Joints.