Not using Evo Coilover Rockstar Brackets on D60?

09-15-2018, 10:34 AM
JK Enthusiast
Join Date: Apr 2012
Location: Fort Worth, Texas
Posts: 254
Likes: 0
Received 0 Likes on 0 Posts

Not using Evo Coilover Rockstar Brackets on D60?
---
So I just took delivery of some fusion 4 x 4 king pin Dana 60 and rear 60 axles. I have a Evo coil over suspension front and rear, and it looks like the rear coil overs fit within the existing "stuck" brackets.

I did order new evil rockstar brackets for the Dynatrac 60, but it looks like they bolted up with no binding without removing the stock JK bracketry.

does anybody see any issue with not using the D 60 rockstar skids in shock mounts? I simply see this keeping the coil over for 100% compression.... which while running 40s the bump stop needs to be adjusted anyway and the fender shaved, while still providing full extension.

09-16-2018, 06:56 AM
JK Jedi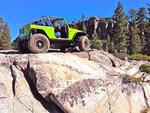 Join Date: Oct 2010
Location: Southwest Reno, NV
Posts: 5,181
Likes: 0

---
If the shocks fit with no clearance issues and your travel is where you want it why would you run the rock star skids? Not running them also should give you more up travel which is a good thing since the EVO kits are poorly designed that they run 25/75 up down ratio and tend to constantly bottom out on any mild speed rough terrain unless you are jack the height way up to 6"+.