Smittybilt SRC Roll Cage

03-22-2019, 07:43 AM
JK Enthusiast

Smittybilt SRC Roll Cage
---
So I've been thinking about options to beef up the stock roll-bars, and in digging around a bit, the
Smittybilt SRC
kit looks to fit my needs: Affordable, nothing too intense, little more peace of mind, and potentially a good way to mount some stuff like a CB. I can't seem to find much info on it at all though... Best I've found is the install instructions at Extreme Terrain (
PDF found here
).
After quintuple barrel-rolling my TJ down a hill, I'd feel a lot more comfortable with a little added protection, but I can't afford (or really justify) a full weld-in cage, especially since this is my DD, I'm not doing anything super extreme, and I would really rather never roll it at all.
Anyone have any experience with this product, or maybe have suggestions on something similar?

03-22-2019, 08:01 AM
JK Junkie

---
I can't speak to the quality of the cage, but Smittybilt in general is a lower quality product. It may give you a better sense of security but I doubt it would help much more than the factory "cage". The Smitty stuff tends to appear large and beefy but the material thickness isn't there. Where they attach two pieces of metal is typically just porous weld spatter. I had my share of the stuff when I started out and I've since removed it. Some things are worth saving a buck, I don't think this is the place or time.

03-22-2019, 08:08 AM
JK Enthusiast

---
Yeah, was gonna address "Shittybilt" in the OP... Well aware of their reputation for a sub-par product, but was hoping maybe someone had a suggestion on something that was similar, and potentially of a higher quality. Or even someone that's gotten this particular kit, had a closer look at it, and had some insights. I've had a few Smitty products that were just fine, even high quality, and some that... weren't. It seems to be a bit of a toss up.

And thanks jedg, I've seem them around, but I'll take a closer look at them... I don't remember why that particular product didn't catch my attention before, but I'll give it another look.

03-22-2019, 08:25 AM
JK Jedi

---
I agree with everything here....both what you have said, and what karl and jedg said. I've had a few smitty things along the way, and still do (winch and front bumper at the moment). My jeep started with some SRC side rails long ago. Basing my opinion on their tube strength, along with country of manufacturer, and this particular application, I don't think I'd do it myself. I mean, better than nothing? Probably so, but I wouldn't risk it in a rollover. That PSC sport cage is a pain in the ass install and was not impressed with a buddy's. Didn't play very nice with the windshield. I think the RH version is best going out there......hate the price tag of these things. Truth be told.....I really need something myself

03-22-2019, 08:33 AM
JK Enthusiast

---
Yeah, I've taken another look at the
Rock Hard Ultimate Sport cage
... I know I had looked at it before, but I guess at the time the fact that it didn't offer anything in the rear, and was a bit pricier, had steered me away from it... of course, I never have rear seats anymore, and I can always add some piece-meal stuff down the road to the rear if I need to. If/when I get the Rock Hard, I can see myself poking some holes in that flat steel top-piece to give some mounting points for stuff, but it still pretty much covers my needs at a reasonable price. It's gonna move to the top of the list, unless someone chimes in with a surprise review of the Smittybilt cage.
Fingers crossed I don't get reamed too hard on taxes this year, and maybe have a little extra to do something to the Jeep. I've been itching for some new parts, and just haven't been able to make it work for a while now.

03-22-2019, 03:09 PM
JK Newbie
Join Date: Apr 2011
Location: Florida
Posts: 8
Likes: 0
Liked 0 Times in 0 Posts

---
I have been leaning toward this cage too. It comes pre-powdercoated and with padding for the new bars. It is even harder to resist with the current sale at Northridge putting it in the low $500 range.

03-29-2019, 08:32 PM
JK Newbie
Join Date: Oct 2018
Location: Pasadena, Ca
Posts: 8
Liked 0 Times in 0 Posts

03-30-2019, 07:23 AM
JK Jedi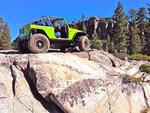 Join Date: Oct 2010
Location: Southwest Reno, NV
Posts: 5,123
Likes: 0

---
That does very little for protection, neither does the rock hard stuff but it makes people feel better and its bolt on stuff. Both may be even more dangerous since they add bars in the head area will will change the designed crumple zones of the jeep.The lap and shoulder belts don't hold you in the seat very well during a roll over. IF you want southing that is going to help in a roll over is put an X behind the seats on the B pillar and tie it to the frame with some bushings. Gets some seats and some 4 or 5 point belts

03-31-2019, 06:52 AM

---
I have the rock hard cage. After getting it installed, i was talking to the installer. Mind you, this was a couple of years later. I found out that after what i spent on powder coat, the parts, and installation, for a couple of hundred bucks more, i could have had a complete custom cage, that would probbaly be better and more survivable for my jeep. Just a thought.