Steering Not Centering - Right Turn

02-07-2019, 04:02 PM
JK Newbie
Join Date: Feb 2019
Location: Reisterstown
Posts: 1
Likes: 0
Received 0 Likes on 0 Posts
Steering Not Centering - Right Turn
---
Recently Installed a 4.5 Rock Krawler X-Factor lift w/ Falcon 3.1 Shocks and RK Off-road Pro Drag Link. I had an alignment done. The steering wheel is almost perfectly straight.

Problem: Turning left no problem. After making a right turn, the steering wheel will not return to center (stays about 45 degrees), however, the Jeep will drive straight. The steering wheel slowly works its way back to center over the next few minutes, all while the traction control is freaking out and applying rapid break pressure to the front right tire... thoughts? Has anyone experienced this?


02-07-2019, 07:58 PM
JK Newbie
Join Date: Aug 2012
Location: Bruderheim, AB
Posts: 29
Received 0 Likes on 0 Posts

---
Do you have the before and after spec sheet from the alignment? Caster angle is what helps return your wheel the the centered position, depending on amount of caster your toe angle will also effect or magnify the effect of caster. Your alignment might still be off, not sure where you went for your alignment but a lot of hack shops like to "set the toe and go", in other words they make the tires point strait down the road so it drives straight but dont properly set the other angles because it takes longer and will cause problems like your having. (assuming there are no other worn steering parts)

02-08-2019, 12:25 AM
JK Jedi Master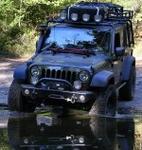 ---
Perhaps something has been left loose in the steering linkage. Get under there and start poking around. I would not drive it until I figured out what was causing this and fixed it.

02-08-2019, 01:16 PM
JK Jedi Master
Join Date: Jan 2008
Location: Texas
Posts: 10,943
Likes: 0

---
My first thought was a loose pitman, but that behavior sounds different from previous posts I have read. Not sure what is going on there. Maybe something in the steering box?

02-08-2019, 05:03 PM
JK Jedi

---
Stumped.

If I understand correctly, you turn right, and the tires of the jeep return to straight since you say the jeep drives straight, but the steering wheel does NOT return to center along with the tires....at least for a short while. (jeep thinks you're in an awful slide since the wheel is not straight for such a period and that is throwing the traction control in to crazy mode trying to save you from the danger it thinks you're in). How long ago was the lift installed? Did this start right after that, or was it fine for a period of time before starting? When was the alignment done in relation to when this started? Just trying to narrow down a timeline of events.