To Flare Or Not

12-12-2018, 04:42 AM
JK Newbie
Join Date: Aug 2018
Location: Alabama
Posts: 15
Received 0 Likes on 0 Posts
To Flare Or Not
---
I may have already made a decision on this, but would appreciate some discussion, correction of thoughts, etc.

I am not a fan of the looks of the OEM JK fenders. And I really don't like that they turn gray so soon after getting them black again. I thought I would replace them with narrow "stubbies".

The originals are still OK, I broke two clips and will get around to fixing that.

Thought I would replace them with aluminum. Then I get to thinking, plastic can take a bend and return to shape, not so with metal.

Choices:
Leave the OEM's on until they fall off.
Replace with stubbie plastic flares.
Replace with aluminum stubbie flares.

What say you?

12-12-2018, 05:58 AM
JK Jedi

---
If you are going to stick with plastic, I'd stick with the factory ones (cut them if you prefer). At least they will simply break off before damaging your body. I have a really bad taste in my mouth from my experience with plastic Bushwackers. The problem is really the way other plastic flares attached, and the fact they are so rigid they usually don't bend right back in place. I'd choose aluminum myself, and decent ones at that. Keep in mind that with a stubby they will all be a little more protected compared to a full width that is really sticking out there.
One last comment....if you don't like the raw look of aluminum, there are companies out there that make very nice color match paint in rattle can, and I'm not talking about those small 5oz Mopar cans. For something like flares, you could probably prime and color match those to the body for $100-$120 in paint and clearcoat. I realize that is a lot compared to just basic black rattle can, but could be an option depending on color of your jeep. I've used the paint from this company on a couple cars, and it was really really close as far as matching. For something like a flare, perfect. The paint doesn't stretch as far as black rattle can does. For example, I have a buddy that just painted the outside of 4 half doors, and it pretty much took 1 can per door to have several nice coats. He was being quoted $400 to have local shops paint them.
https://www.automotivetouchup.com/spray_paint.asp

12-13-2018, 05:45 AM
JK Newbie
Join Date: Aug 2018
Location: Alabama
Posts: 15
Received 0 Likes on 0 Posts

---
I rather like the look of tube type aluminum flares. Your comments on painting gave me an idea. Our Jeep is white, so the flares could be any color like red. That seemed like a good idea for about two seconds, then I thought it would be trashy.

I had reasoned stubby flares would not get as much abuse since they are not sticking out. Good to hear you confirm that. All our off-road involves rocks.

05-03-2019, 03:50 AM

---
So far I've run the stock flares, then Xenon (crap) fares, then the Bushwackers, then, finally, the Nemesis aluminum flares I wanted in the first place. A word of advice, if you get the Nemesis flares spend extra for the ones with inner reinforcements.

05-07-2019, 03:44 PM
Super Moderator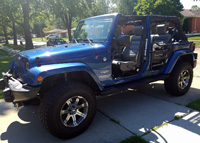 ---
If you end up sticking with the stock black plastic flares, then do yourself a favor and go to Home Depot and pick up some Flood's Penetrol. It's the best, cheapest, and will last the longest of anything out there when used on the black plastic trim parts that fade grey. It will last at least 1 year, where others have reported up to 2 years depending on how many car washes you go through.