New to the JK Forum and the Jeep

08-11-2018, 07:16 AM
JK Newbie
Join Date: Jun 2018
Location: Salt Lake City, UT
Posts: 0
Thanked 0 Times in 0 Posts

New to the JK Forum and the Jeep
---
Brand new to to forum and new to the "Jeep" world. Came in here to learn from the community and share in your experiences as well as share our own. We love checking out all of your cool pics and can't wait to fill our albums with pics of all of the cool places out here in Utah!
Always been a dream and just got our first jeep. 2017 JK "Oscar Mike" Freedom Edition. So far only basic mods. Upgraded the tires, level kit, replaced the stock rock sliders, and more on the wish list.
Up in the Uintah Mtns. July '18

08-16-2018, 06:42 AM
JK Junkie
Join Date: Jun 2013
Location: Willow Park, TX
Posts: 3,927

---
UNfriendly people were. The majority of people in that area seemed very surly, and I'm not talking about the tourist. Maybe my bar for judging is skewed as people here in Texas are very friendly, or maybe it's just the vibe in little tourist town as the locals view the tourist as a necessary evil.

08-16-2018, 07:38 AM
JK Jedi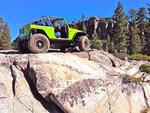 Join Date: Oct 2010
Location: Southwest Reno, NV
Posts: 5,084
Thanks: 0

---
Its a nice little town but I would not like to live there full time. Too many tourist for the size of town. We get it here in Tahoe as well but we are much bigger and just know when to avoid certain areas. We do love the money they bring in though.