New QuietCrawler system for the 2012+ Jeep JK Unlimited

01-08-2016, 10:08 AM
Sponsoring Manufacturer
Join Date: Jun 2010
Posts: 890
Thanks: 0
Thanked 0 Times in 0 Posts

New QuietCrawler system for the 2012+ Jeep JK Unlimited
---
We are excited to launch our new QuietCrawler system for the 2012-2015 Jeep JK Unlimited. This system tucks your mufflers up and out of harms way when on the trail. Get that sound you want and have a nice sound at cruising speeds. As always backed by our 90 day Sound and Perfromance guarantee and our Limited Lifetime Warranty. More info in the link:
QuietCrawler? - Single - 2.5" Cat-Back System - Ultra Flo? Polished Muffler - P/N: 39535 - DynoMax® Performance Exhaust
Check with your favorite retailer on pricing!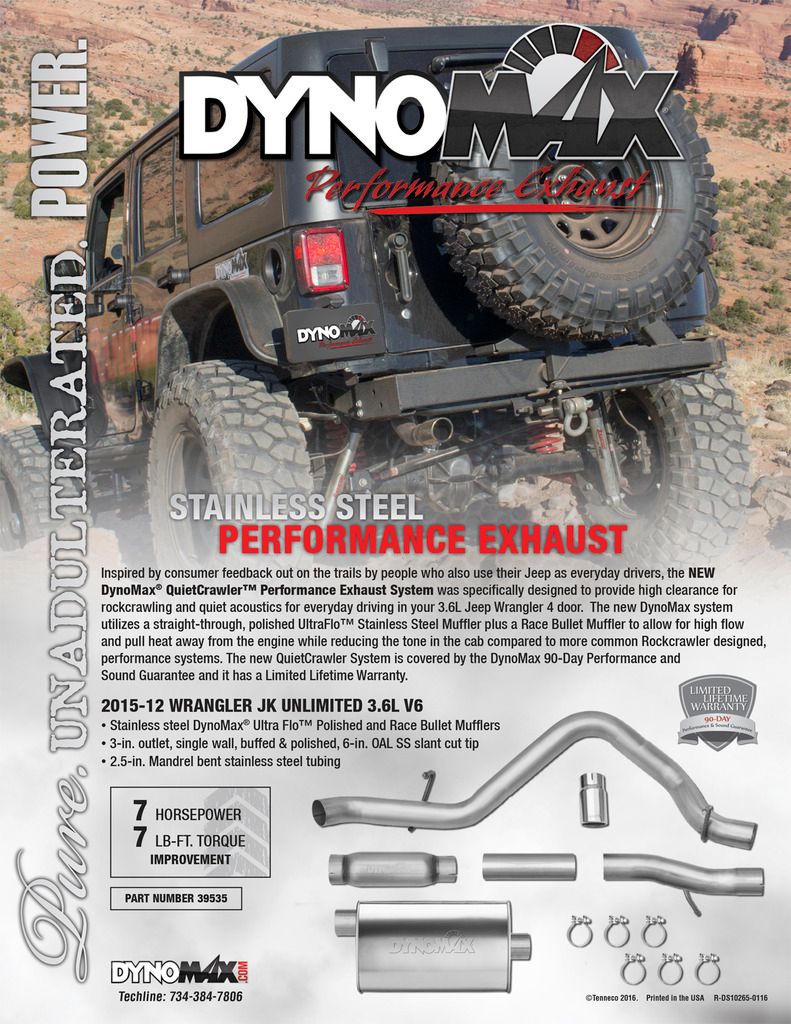 02-22-2016, 01:11 PM
JK Newbie
Join Date: Dec 2014
Location: westford, ma
Posts: 44
Thanks: 0
Thanked 0 Times in 0 Posts

---
I just found a hole in my stock muffler, so I'm looking for new exhaust. I will tolerate something a little louder than stock, but with no droning. I need stock clearance or better. And no dual exits. I don't want something that will get smashed on the trail. This looks like it might be just for me. Has anyone installed this yet?