Receiving signals are static

11-29-2018, 05:58 PM
JK Newbie
Join Date: Nov 2018
Location: SPARKS
Posts: 1
Likes: 0
Received 0 Likes on 0 Posts

Receiving signals are static
---
cobra 25 lx digital. 4ft firestick antenna......the cb is tuned to the antenna and my voice is heard but the signals are receive are coming in as static

12-03-2018, 06:53 AM

---
https://www.wearecb.com/troubleshooting-cb-radios.html

Poor/Low Voice Reception
You receive transmissions, but they are garbled, very quiet, or otherwise hard to hear.
Check Microphone Connection
Spread the pins on the radio out a little to ensure a better connection.
Check Squelch Adjustment
Turn the squelch all the way counter-clockwise. You should hear static. Now turn it back clockwise just until the static stops.
Switch To Active Channel
It is possible the CB users transmitting on your frequency are very far away. Try another channel.
Check CB Antenna Connection/Cable
Make sure the CB antenna and coax are connected properly. They should be screwed in tight with all caps and weather protectors in place.
Check Ground Connections
Make sure the CB radio's ground wire is connected to a good chassis ground in the vehicle.
Check SWR/CB Antenna Connections
Check for a high standing wave. Check the antenna and cable for shorts and continuity.
Tune Your Antenna
When people contact us regarding issues, one of the first questions we will ask you is, "Have your tuned your antenna?". If your antenna is not tuned, it can cause all sorts of problems! Every CB antenna needs to be tuned to optimize your CB system and ensure that you won't potentially damage your radio.
Check CB Mic Connection/Plug/Cord
Make sure your CB mic is plugged in securely. Check for breaks or damage to the plug and cord. Check the pins in the radio for damage as well.
Check RF Gain Control
If your radio has an RF gain control, make sure it is turned all the way clockwise.
Try an External Speaker
Your speaker may be bad or going bad. Try using an external speaker to eliminate this possibility.
Check Battery/Power Connections
If your CB radio is not connected directly to the battery, make sure the fuse panel or extension wire it is connected to has a good connection to the battery.

12-07-2018, 10:50 PM
JK Jedi Master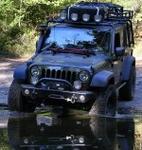 ---
There are lots of sources of static noise. First off, are you certain the signal is actually strong enough to remove all static? It you're just making a random radio call and someone responds, perhaps their signal is too weak. A better check (for static) is with a handheld CB operated by someone right there with you. Is the static traceable to some source? Some ignition wires/spark plugs can cause static when the engine is running. Try the test with the ignition set to the accessory position only. Or off, if your radio will work with it completely off. If the noise is gone, then turn on the ignition or whatever until it appears, then start turning off individual devices that may be the source of the noise--pull fuses, if necessary to remove power. My friend, who installed an aftermarket power inverter, hears lots of static whenever that inverter is turned on. Static can also be picked up over the power wires. You may have routed them next to some noisy circuitry. It may be necessary to reroute them. You could do a quick check for this by routing temporary wires directly to the battery and away from all other wires. Just a temporary, at rest, test to see if it is the power wires picking up the noise source. Noise can also be picked up by audio wires. If you have a remote speaker, are you sure its wiring is good?

Bottom line is, you say you have static, but then didn't provide much info about what kind it is or when it occurs. The answers to those questions will make it easier for you to trace the source and determine a solution.

06-13-2019, 05:18 PM
JK Enthusiast
Join Date: Aug 2011
Location: Palmdale, CA
Posts: 281
Likes: 0

---
Mark covered it pretty well. The only thing I would add would be to vary the engine RPMs and see if the static changes with the RPMs. If it does it is alternator noise and simply installing a filter should correct that problem.

KG6SLC aka Eugene

06-17-2019, 05:48 AM
JK Newbie
Join Date: May 2019
Location: Toronto, Ontario
Posts: 11
Received 0 Likes on 0 Posts

---
I think everyone pretty much covered it, but you say the CB is tuned to the antenna. It is typically the other way around where the antenna is matched (tuned) to the radio (transceiver). Out of curiosity where is the antenna mounted as it is possible that this could be part of the problem. Also did you use an SWR meter to tune your antenna? If not then I would consider this as well, if you are using the common spare tire mount for your antenna I would be looking to see if the antenna is touching your tire. Not that this is your source of 'static' but mainly because this should throw off your SWR.

If it's hood or cowl mounted it's possible the static is coming from the engine and as mentioned a filter can help. Granted todays vehicles have resistor plugs and are much better at reducing engine static on radios.

On your radio on the left side of the faceplate is a button marked NB or noise blanker, when you depress this button does the static disappear? If so you might just want to use that.

Finally, where is your squelch set? Typically there is some background noise (static) and setting this above the threshold of noise will solve the problem. At this point I would also be testing how well I am receiving others though.