How I Overland (Overlanding Tips)

10-29-2018, 08:44 AM
JK Jedi Master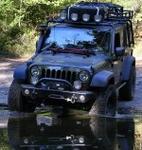 How I Overland (Overlanding Tips)
---
I've just finished a ten part video series on driving the western half of the TransAmerica Trail (TAT) What may be of interest to some, even if watching 2-1/2 hours of overlanding videos isn't your cup of tea, may be the segments that are appended to the end of each of the ten TAT videos. Below is a list of basic overlanding subjects, and direct links to that part of each of the ten videos.
Note that after each video I have a presentation on a variety of topics that may be of interest to Jeep owners, or overlanders in general. The topics, their start times, and a direct link to each segment are listed below:
Part 1, 13:36. Mapping, the products we use in the field, and what we use to process routes and maps before a trip.
Part 2, 15:55. Camera gear used in the field.
Part 3, 13:30. Photo and video editing hardware and software I use in the field and at home.
Part 4, 13:25. Route planning – How to create a route in Google Maps and make it suitable for use in Backcountry Navigator.
Part 5, 12:20. Communications gear.
Part 6, 14:41. Electrical system modifications to my Jeep.
Part 7, 13:50. How I use the Nexus 7 Android tablet in my Jeep.
Part 8, 14:58. Modifications I've done to my Jeep. (Note that communications gear, electrical mods and camp life are addressed separately).
Part 9, 14:18. Camp life.
Part 10, 19:10. Tools and recovery gear I use.

10-29-2018, 09:47 AM
JK Jedi

---
Wow, thanks for posting up! Haven't watched yet, but you always make good videos, and these look quite educational. Gonna have to find some time to run through these!

11-03-2018, 06:38 PM