Custom modular JK hardtop

12-09-2014, 03:27 AM

Custom modular JK hardtop
---
I'm not really a fan of the factory "flat top" JK hardtops, so I've designed a custom modular top I'm calling the "Safari Cab". It's got a raised roof for more interior room, a rear one-piece swinging "barn door", and it's modular so the side panels can be removed and swapped for roll-up soft sides in the summer. Here are a few concept drawings of both 2dr and 4dr versions.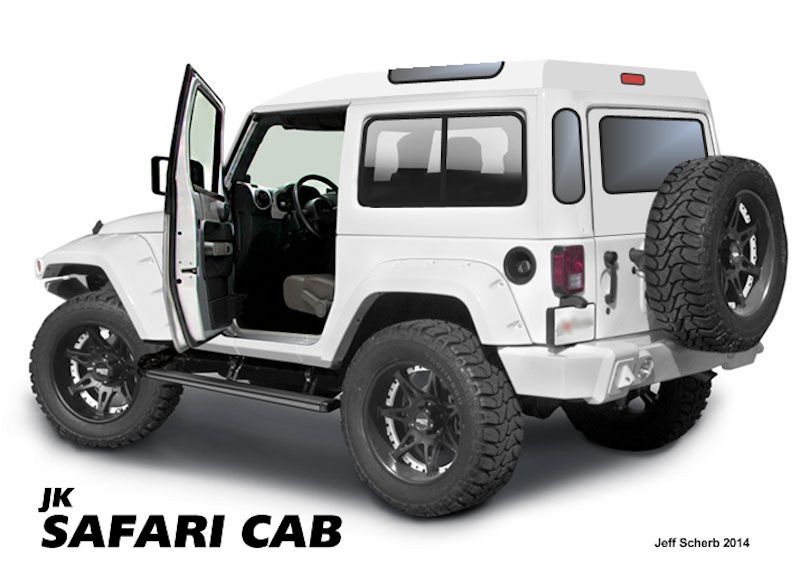 So far I've made molds for the sides and rear panel, and the rear "barn door". Making the roof mold is next.
The prototype side windows include kick-out vents to provide some ventilation for the rear.
The "barn door" attaches to the factory tailgate and turns it into a one-piece door and eliminates the lift glass. The barn door is also compatible with the factory hardtop, in the photo below a prototype is installed for testing on a friend's 2014 JKU.
Because it's modular, the side panels can be removed and replaced with roll-up soft sides, while leaving the roof in place.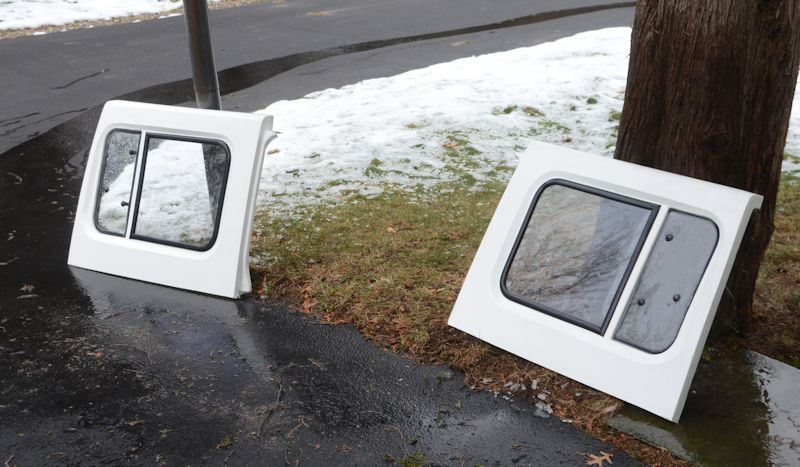 The design also includes integrated roof rack mounts that support the load on the rack to the sport bars, so it will support heavy loads up top and doesn't require an "exocage" style rack. A concept view of the soft sides rolled up:

12-09-2014, 03:46 AM

---
This is the LJ Safari Cab, it's got the same features as the JK version I'm working on now - rear barn door, removable sides that can be swapped for roll-up soft sides, etc...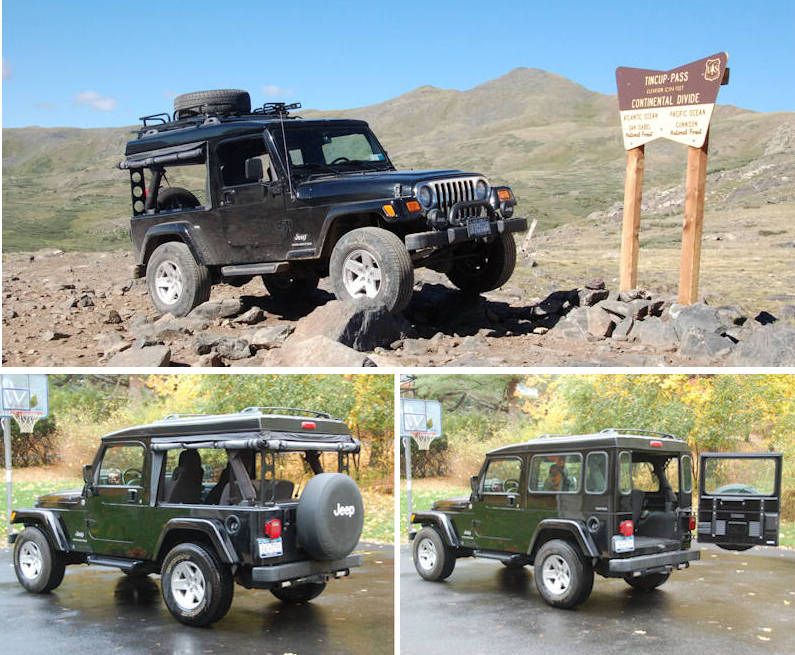 12-09-2014, 05:19 AM
JK Freak
Join Date: Sep 2010
Location: Fayetteville, AR
Posts: 862
Thanks: 0
Thanked 0 Times in 0 Posts

---
I just wanna say that you have some serious design talent man. Although it's not my personal taste I'm sure it would sell for the reasons you designed it. Good work brother and thanks for sharing - hope to see more of your work.

Sam

12-09-2014, 05:37 AM

---
A prototype barn door in operation on a friend's JKU with factory hardtop. The glass and wiper motor cover aren't installed in this prototype yet, we're just testing the fit and operation.
http://www.youtube.com/watch?v=NMJzZXUKBG0

12-09-2014, 06:12 AM

12-09-2014, 07:03 AM

---
I'm not planning to do something like freedom panels, but one option that's possible is a removable soft tonneau cover for the roof, and another option is a sunroof that could be a removable panel type:
When the hard roof panel or the soft tonneau were off you'd have a full open roof.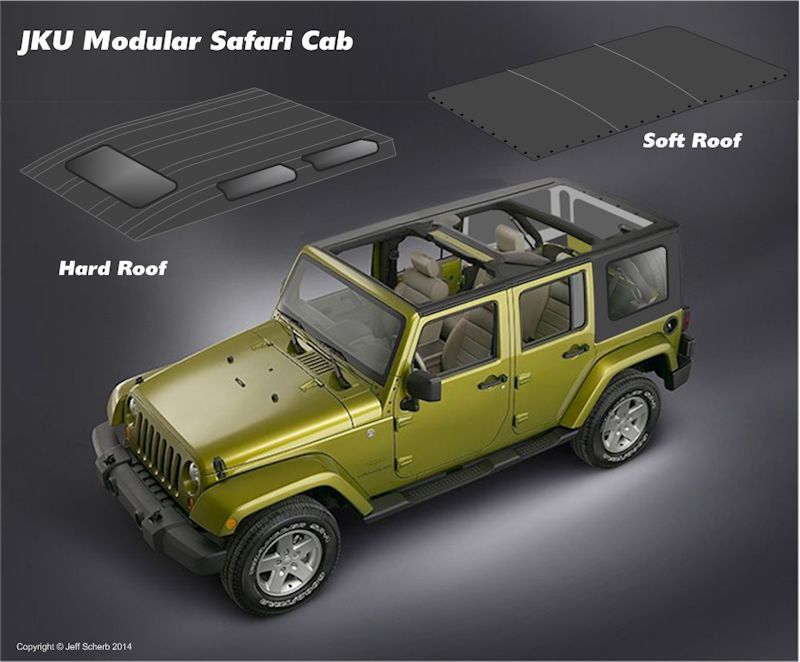 I've run hundreds of miles in the rain with a tonneau like this on my trailers, and it's been completely weatherproof, so I think something like this would work out very nicely on the hardtop.


12-09-2014, 07:51 AM

---
That's an idea, you may want to patent this and pitch the idea to the Jeep folks, there is a strong speculation that the next gen Wrangler will have a fixed roof. Something about the A-pillar strength bla bla bla... This would certainly be a viable option to keep the open top Jeep.