D30 Rebuild/Beefup

08-30-2011, 11:38 PM
JK Enthusiast
Join Date: Jan 2007
Location: Lake Arrowhead, Ca
Posts: 169
Thanks: 0
Thanked 0 Times in 0 Posts

D30 Rebuild/Beefup
---
This thread is not for asking advice on what I SHOULD do, it is simply to show what CAN be done and what I AM doing to a D30 so please keep "should have spent the money on a different housing" comments off the page...... With that said..... Here is my thread!

I have an 07 Sahara. Its been on 35's with 3.21's (6 speed) for over 3 years now and the time has come to do a little maintenance and upgrading. We all know that regearing is expensive and since I lost my main job 2 years ago this is the main reason that it has taken so long to get this done.

What I am doing:
Axle sleeves/gusset kit
HD Ball Joints
Rock Krawler HD steering kit
Yukon 4.88's Gears
Sparton Locker in the rear
Either Daystar Stinger bump stops or Timbrin bump stops

Why spend all this money on a D30?
This is the explanation of why I don't want shit from everyone......

Almost ALL of this is usable on a D44 when I upgrade. The Rock Krawler steering kit is the same for the D44, The locker is in the rear so that wont get changed just yet, The ball joints are the same in both and will last a LONG time, and the bump stops are still in the same place. In fact the only thing that is NOT reusable is the sleeve and gusset kit. Whats that you say? The D30 gears wont work in a D44 housing? Of course not. But the way that I see it is that money would have been spent on the D44 to re-gear it anyway since most people selling a D44 still houses the stock 4.10's in it. Not to mention that when I DO upgrade to a D44, Ill be able to sell this axle for MUCH more than when its in its worthless 3.21 geared scrap metal state.

So what have I spent on the D30?
$500 for the steering kit.... But we aren't counting that because it swaps over to the D44 when I upgrade.
$250 for the HD ball joints.... But we cant really count that either because I can swap those to the new axle as well. (and probably would have had to replace them anyway)
$1250 for the 4.88 gears and rear locker.... But we aren't counting that either because it would have had to be done in either axle.
$210 for those nice bump stops.... Oh yeah.... we cant count that either! Since the D44 has the SAME bump stop pad.

Lets see here.... Oh....
and $200 for the Sleeve/Gusset kit.... Okay.... we can count that since I really don't feel like grinding and drilling and cutting to get them out of the axle to use on the D44.

So that gives us a grand total of about $200! Well plus tax and shipping.....

And if I would have bought a D44.....
Well I think they are going for about $2000 used with nothing done to them. So you can add that to the list and I would have spent $4400 instead of $2400. It's not exactly "cheaper" or "ABOUT the same cost" when you have to do all this AND buy a housing.

Why I spent this on a D30.
Well the obvious reason is that most of this stuff is usable on a D44 when I DO have the money to upgrade. I don't know if its my style of wheelin, or if I've just had good castings, but to be completely honest, I have had extremely good luck with my D30's. I don't plan on upgrading to 37/40's any time soon. But when I don't BOTH axles are going to get replaced with a D60/14 bolt combo. I had a TJ on 35's with a D30 for YEARS without any problems. And the one on my JK is no different. Its not because I have a street queen either. Yeah, its my daily driver, but both rigs have seen some serious trail time. I live only 5 minutes from the start of some really good So Cal trails and see them frequently. Not to mention a good amount of high speed desert lashings to go with it! If you would notice I am NOT upgrading axle shafts. This is due to the weak ring and pinion gears in the D30. If something is going to break, I want it to be one of my shafts, NOT the gears.


Anyway
All these parts are sitting in my shop so its only a matter of time before they will be getting installed since the weather is nice and I can ride my motorcycles while the Jeep is down. I will keep you all posted on the progress and outcome!

08-31-2011, 12:57 AM
JK Junkie
Join Date: Jul 2011
Location: Quinlan, TX
Posts: 2,681
Thanks: 0
Thanked 0 Times in 0 Posts
Good Plannin
---
Well... Subscribed. Sounds like you got this planned out. I can't wait to see the finished product. Good Luck

08-31-2011, 01:40 AM
JK Enthusiast
Join Date: Feb 2011
Location: Houston, TX
Posts: 326
Thanks: 0
Thanked 0 Times in 0 Posts

---
Nicely done, stuck it to the rubi guys!

08-31-2011, 06:02 AM

---
And this is how it should be done. The object of Jeep'n and having fun is not to build a rig that is bullet proof. Just to build it strong and be smart. Upgrades in time are part of the fun.
Good luck to you.

09-18-2011, 03:09 AM
JK Newbie
Join Date: Jul 2011
Location: Abu Dhabi
Posts: 37
Thanks: 0
Thanked 0 Times in 0 Posts

---
100% with you Man, will be doing more or less what you are doing.
Ciao
F


09-18-2011, 04:16 AM
JK Enthusiast
Join Date: Aug 2010
Location: Ventura, CA
Posts: 488
Thanks: 0
Thanked 0 Times in 0 Posts

---
Seems that you started off a little on the defensive side but I understand... There is nothing wrong with dropping ten grand into beefing up your drive line but how many people ever use their D60 setups to their potential. I think there are a lot of people who over kill when it comes to mods but to each their own.

I am thinking of beefing up my d30 for the same reason. If you don't beat the crap out of your front end, it will treat you nice. I had a 2002 grand cherokee and that stock front end never let me down.

For most trails in SoCal, I think this set up is favorable.

Cheers ,and let us know howit goes

09-18-2011, 05:07 AM
JK Freak
Join Date: Jan 2009
Location: Bettendorf, Iowa
Posts: 949
Thanks: 0
Thanked 0 Times in 0 Posts

---
Subscribed. Someday I'll upgrade gears and I'll want some insurance too on the front axle. Not sure I need a 44

09-18-2011, 10:39 AM

---
Ive never seen those daystar stingers before. I wanna hear some feedback on them when you get everything mounted up.

09-18-2011, 05:32 PM
JK Super Freak
Join Date: Aug 2009
Location: Stamford, CT
Posts: 1,315
Thanks: 0
Thanked 0 Times in 0 Posts

---
I agree with your plan and going a little different with my D30. I did not sleeve but did the upper C gussets. I've seen tubes break even with sleeves so didn't do it. I did do chromoly shafts but figured the weak point would be the u-joints and hopefully not the gears. Seen more u-joint failures than gear failures. I also left the front unlocked to keep chances of breakage to a minimum. Rear locker and winch should keep me moving forward. Been wheeling my 30 for over two years moderately from purchase. Ran 35's and now 37's successfully. When the housing breaks, a PR44 or other aftermarket will be put in.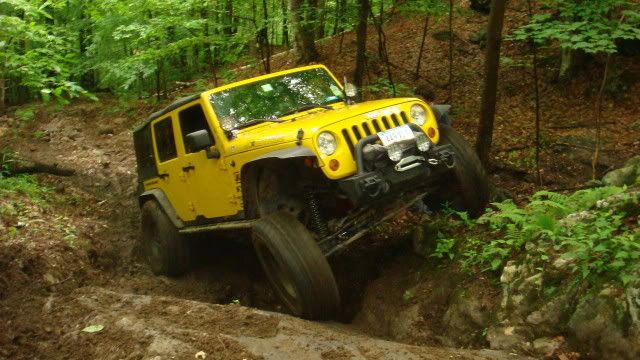 09-18-2011, 05:41 PM
JK Junkie
Join Date: Feb 2010
Location: Bloomington, IL
Posts: 2,151
Thanks: 0
Thanked 0 Times in 0 Posts

---
FYI, the u-joint failures are due to the stock axles flexing. That's according to our Dynatrac rep.
Thread
Thread Starter
Forum
Replies
Last Post
JK Axles, Gears & Drivetrain
JK Axles, Gears & Drivetrain
Posting Rules
You may not post new threads
You may not post replies
You may not post attachments
You may not edit your posts
---
HTML code is Off
---