JKU Flip Key i bought off ebay

03-02-2019, 05:24 AM
Super Moderator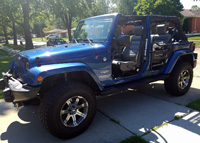 ---

03-05-2019, 12:40 PM

---
Got the key in today. Looks like decent quality material and finish, I'm happy about that. The key actually has a nice bevel on the non-key side to keep it a little slimmer. I had it cut and it fits and turns the lock. I have all three keys sitting here next to me so I'll program it when I get a chance. Looks good so far!

03-06-2019, 03:36 AM
Super Moderator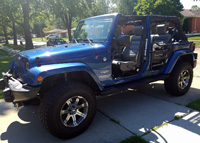 ---
Do they make one with the remote start button?
Also keep us posted on battery life. I purchased a set of inexpensive blank fobs on Ebay. Everything worked great until I found I was replacing batteries on those fobs every 2 weeks

03-06-2019, 06:20 AM

---
Honestly I just followed the posted link and clicked buy, I didn't shop the options. There is a spot on the key that could accommodate another button so that remote starter is a possibility.
I did accidentally try out the panic button today. Turns out aiming the horn down into the engine bay to accommodate new headlights makes it sound pretty funny. I'll have to get used to not clicking that button.
Also one oddity, the key is now 90* to what we're used to. It's incredibly awkward. I'm sure it'll work itself out in short order but I'm commenting to thoroughly address the minutia of this venture.

03-06-2019, 06:23 AM
JK Jedi

03-08-2019, 01:40 PM
JK Jedi

---
So, got my key cut today. Local Ace refused to cut it, saying it was a $300 key and they weren't allowed to in case they messed it up. I assured them several times it was a $16 key off eBay and I'd throw it away if it didn't work. Stopped by an A1 Locksmith today after work. They had to use a newer fancy machine, but got it cut for $4. Came home, went through the process and it worked. Had a minor freak out trying to remove the key however, as the barrel wouldn't turn back to release the key. I guess the machine was limited in cutting it cuz the big fob part, and the blade of the key is just a tiny bit different than the originals. Realized I just needed to push in on the key as I rotated it back to pull it out. I thought the 90* thing might drive me crazy, but not a big deal. I'm gonna try to use this key a bit and see if I can get used to it.