JKU Flip Key i bought off ebay

03-08-2019, 03:06 PM

---
Nice post OP and thanks for the heads up. Home Depot cut mine on their basic machine (non-programming) for free (since I wasn't buying a key), followed the program instructions here and all good. Cheers!

03-08-2019, 04:24 PM
JK Jedi

---

03-10-2019, 06:07 AM
JK Newbie
Join Date: Mar 2015
Location: Deadwood S.D.
Posts: 80
Received 0 Likes on 0 Posts

---

03-14-2019, 04:15 PM
JK Jedi Master
Join Date: Jan 2008
Location: Texas
Posts: 10,931
Likes: 0

---
That's what I was told as well. Two local locksmiths said I need to open the case, remove everything, and hand them just the blank key. Going to try Home Depot and Lowes and whoever else first.
Edit - found a locksmith that would cut them without pulling them apart. He commented on the poor quality of the key blanks. The first one cut fine, but the second blank cracked and a chunk broke out as he cut it.
Emailed the ebay seller about pulling the fob apart and trying to replace just the key with one from my last set of flip keys that broke (visually, they look the same). The answer : The keys are integral to the fobs - they don't come apart. No answer to my question about how batteries are replaced if the fobs can't be taken apart...
---
Last edited by nthinuf; 03-23-2019 at

10:31 PM

.

03-15-2019, 06:07 AM
JK Freak
Join Date: Dec 2011
Location: NJ
Posts: 636
Likes: 0

---

03-15-2019, 07:25 AM
Super Moderator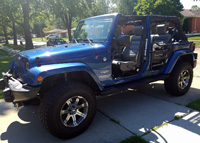 ---
Getting keys cut is always hit and miss, even with the stock keys. I spent an entire Saturday driving around trying to find someone that would cut 2 blank fobs for me. I was almost ready to break out a file and start widdling it away myself. Most of them can do it, regardless of what machine they use to cut it, but a lot will choose not to cut it based upon they don't want to be held responsible for the cost of your fob if their cut doesn't work. That's also probably the real reason the locksmith asked nthinuf to remove the key from the fob.

I finally found a nice older gentlemen working at a Lowes who cut the fobs for free for me. He explained, if he charges then they could be held responsible for replacement of the fob if the cut isn't good. It wasn't every Lowes that would do it either, it basically boiled down to the individual being willing to help another person out or not. It was kind of funny to me because an employee at Walmart told me to try that particular Lowes since Walmart stopped cutting fobs people brought in and this was after I had visited 2 other nearby Lowes that wouldn't cut it.
---
Last edited by Rednroll; 03-15-2019 at

07:34 AM

.