Road Trip Essentials?

05-11-2014, 06:34 PM
JK Newbie
Join Date: Mar 2013
Location: Dana Point, CA
Posts: 53
Likes: 0
Liked 0 Times in 0 Posts

Road Trip Essentials?
---
I am taking a long road trip with my girlfriend and dog from Southern California to Seattle. We are hitting up Big Sur and the Redwoods along with other various campgrounds along the way.

This is our first long road trip in the Jeep. Any suggestions either in terms of helpful hints with the vehicle itself, or in terms of helpful items you purchased to make the trip more enjoyable (e.g. neck pillow, gear rack, etc etc).

Any and all suggestions are welcome. Looking forward to putting some more miles on my jeep.

05-11-2014, 07:25 PM
JK Super Freak


---
If you don't have a
Trasharoo
, check it out. Waste is a terrible thing to mind.

Wifey always takes a travel pillow, books to read, and sometimes knitting stuff. Just back yesterday from a 2000 mile trip with lots of off-road time, took a bunch of CD's and never played even one...
Have fun,


05-12-2014, 03:32 AM
JK Jedi Master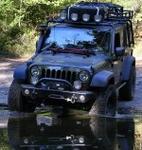 ---
It isn't cheap, but a fridge and a tailgate table are really handy. If you make sandwiches for lunch, and keep a couple Nalgenes of cold water to drink, they pay for themselves over time. I have the ARB fridge and the Trailgater table.

05-12-2014, 07:22 AM
JK Super Freak
Join Date: Sep 2012
Location: United States
Posts: 1,553
Likes: 0
Liked 0 Times in 0 Posts

---
If your Jeep is modified/lifted, make sure the spare tire is adequate and that you have a jack and tools to remove any custom wheels and get the Jeep high up enough off the ground.
Personally, I'd rain-x the windshield to make bug removal at gas stations easier.
Definitely keep snacks and liquids handy.
Keep water and treats around for your dog. If going through a drive-through, we always ask for a cup of water and keep it in one of the back cup holder, just for the dog. (and then stop often enough so the dog can pee)

05-12-2014, 12:20 PM

---

05-12-2014, 01:20 PM
JK Jedi Master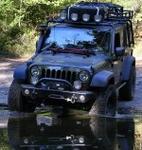 05-12-2014, 04:05 PM
JK Newbie
Join Date: Jul 2012
Location: Chardon, Ohio
Posts: 96
Likes: 0
Liked 0 Times in 0 Posts

Road trip essentials
---
I'd advise taking plenty of water, since you never know what quality you'll find along the way, and I absolutely hate to have to buy bottled water. You'll be surprised how much you will drink. I take at least a 5 gallon collapsible jug for a week long trip, and that's just for me.

05-12-2014, 05:27 PM

---
Just got back from one from North-East Texas to Amarillo about a 900 mile round trip and let me tell you, the wind was about to drive me nuts, gusting at 35 mph it was hard to keep this box on the road. Just be ready for it if you're modded, I run a 4" lift and 37's. Have fun!

05-12-2014, 06:07 PM
JK Super Freak


---
JK14 mentioned gusting winds, and that reminded me of the hood flutter problem.
Maybe yours doesn't have this issue, or it's already been addressed, but in any case; sudden hood flutter when an oncoming 18 wheeler meets you on a two lane road, especially with gusty wind, can be
very
annoying. I used the Drake hood hold-downs, and there are several other choices to solve this problem.
Have a great trip