Why so pricey?

02-08-2019, 05:33 AM
JK Enthusiast
Join Date: Dec 2007
Location: Philadelphia, PA
Posts: 221
Likes: 0
Received 0 Likes on 0 Posts

Why so pricey?
---
I understand there's this thing called Inflation and stuff gets more expensive over the years .. but, anyhow, looking online at a 2019 wrangler. My old one was a 2008 Unlimited X, not too many bells and whistles, came in at like $27,000. Building a 2019 online adding the stuff I want and it's coming out to nearly $40,000! I mean, I know it should be more expensive than 11 years ago, but still.. What's so cool about the 2019's that makes them so much more expensive? At this point, I don't think I could afford a new one at all :(

02-08-2019, 05:43 AM
JK Jedi Master

Join Date: Feb 2008
Location: Maine
Posts: 12,535
Likes: 0

---
Adding what one wants to a new vehicle has always been expensive. The dealer and manufacturer enjoy a big profit on added options.
The Wrangler is in high demand. The price is driven by that demand. Not much else can be said about that.

02-08-2019, 07:14 AM
Super Moderator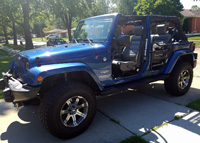 ---
FCA has jacked up the price on the Wrangler to subsidize for the poor sales on the rest of their fleet of vehicles. I think I got lucky when I bought mine in 2009. In 2009 Wrangler sales were dipping, so dealers were willing to come down on price. Sticker price on my 2009 Sahara JKU was $34K and I was able to negotiate my way down to $28.5K where I feel their willingness to accept my offer was tied to the sales slump in 2009. See the link I posted below to see what I'm referring to.
At this time, I feel FCA has increased the price of the Wrangler higher than the market will be willing to tolerate and expect that over the next couple years we may see prices drop and/or a lot of incentive rebates being offered on the Wrangler and typically the Wrangler has not had to provide any incentive rebates like all the other FCA "Jeep" branded vehicles.
This is a good reference website I use for vehicle sales.
Jeep Wrangler Sales Figures | GCBC
We don't have enough data currently but as of now it's showing Wrangler sales for the month of January 2019 to be 13,024. Forecast that out over 12 months and it equates to 156K Wranglers per year in the U.S. which is down significantly from the 2018 total of 240K. It's not enough data to make any definite conclusions as I mention but I like to keep a close eye on how well these sales numbers are going. Typically sales will increase over the previous year with a new model launch, just look at the 2007 JK sales numbers compared to 2008. However just after 1 month we're not seeing that same new model sales boost and I believe that has a lot to do with how the 2019 Wrangler is currently over priced. If the January 2019 sales numbers becomes a trend, then I expect we will start to see some changes in price but it may take at least a full year before we start to see that trend establish.
Bottom line....I would recommend to hold off purchasing a new Wrangler JL both for quality reasons and pricing. That's what I'm doing. Plus, I already got burned once by FCA when purchasing a newly launched vehicle when my wife purchased a 2015 Renegade which has been a turd riddled with problems ever since 3 months after we drove it off the lot. My confidence in a quality FCA designed vehicle is at an all time low currently, although I love my JKU and it has been quite reliable....but my 2009 JKU wasn't designed under the FCA umbrella, my wife's 2015 Renegade was and so is the Wrangler JL.
---
Last edited by Rednroll; 02-08-2019 at

07:46 AM

.

02-08-2019, 07:33 AM
JK Junkie
Join Date: Feb 2012
Location: brick, nj
Posts: 2,833
Likes: 0

---
I bought a 2012 in 2012. Nicely configured I paid less than $30k. I feel like the prices jumped after 2012. Maybe the base didn't change much but the price to pay for option went up a lot.

02-08-2019, 08:00 AM
Super Moderator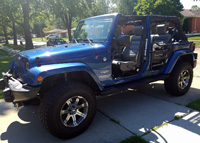 ---
From the link I posted, you can see the upward trend in sales after 2012....thus, FCA started to raise the prices after seeing the jump in sales in 2012 to take advantage of the upward trend. It should be the opposite where they will drop prices if we see a downward trend in 2019-2020.
You're right though, after 2012 not much was added. 2011 the interior was upgraded and in 2012 the engine/drive train was upgraded and those 2 things were 2 of the biggest drawbacks with the 2007-2010 Wranglers. Once the sales jumped in 2012, FCA knew they made the right decisions with those updates and took advantage by raising the price each year afterwards to see just how far they could push the price up and not create a downward trend in sales.
---
Last edited by Rednroll; 02-08-2019 at

08:03 AM

.

02-08-2019, 08:30 AM
JK Enthusiast
Join Date: Dec 2007
Location: Philadelphia, PA
Posts: 221
Likes: 0
Received 0 Likes on 0 Posts

---
Maybe there will be more incentives in the spring or summer? Like they think more people will buy regardless in winter for 4 wheel drive in the snow?

We have a 2015 renegade though and it's been reliable, no real issues at all and 47k miles so far.

Just playing pricing out a plain old 2019 wrangler sport, 4 doors, automatic and hard top comes out over $36k. Same thing in Sport S is $39k. Was just bummed seeing those prices. Almost feels like I may as well go for a grand cherokee instead. Wait nevermind, those prices are even crazier.

Maybe it's just another sign I'm getting old. Back in my day we had to zip windows open, and we loved it!

02-08-2019, 11:04 AM
Super Moderator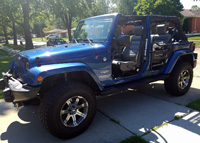 ---
They only offer incentives based on their forecasted sales vs actual sales. When they sell below forecasted sales, their stock drops and their investors get upset. It doesn't have anything to do with seasons, and more to do with quarterly financial reports.


---
Last edited by Rednroll; 02-08-2019 at

11:12 AM

.

02-08-2019, 02:18 PM
JK Super Freak
Join Date: Mar 2014
Location: Nashville, TN
Posts: 1,404
Likes: 0

---
Considering you can get special editions to creep up on $60k nowadays...NOT worth it. I'd buy a Rover and a TJ. One for work and one for play. I know a bunch of people would bash on that as well. But to each his own.

02-08-2019, 06:46 PM
Super Moderator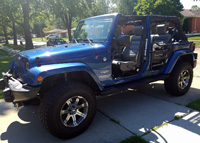 ---
I definitely don't have a problem with that. I was considering purchasing a JL but with these prices I've just decided to keep my JK and am now considering a Corvette instead and when it comes time to replace my engine on my JK I will look into getting an LS corvette engine so I can learn how to work on one engine and be able to repair both vehicles.