2 Week Camping Family Adventure in the South West

01-18-2019, 06:35 AM
JK Enthusiast

2 Week Camping Family Adventure in the South West
---
Me, the wife & our 12 yr old daughter our getting ready for a 2 week vacation to NM, AZ, UT, & CO. We took several trips out west when I was a child and the memories are great. Have been waiting to do a trip like this with my family for years. We will be camping most every night in the RTT. Looking for back country camping most nights, with KOA or NP campgrounds every few days to wash clothes and people. We are set up, capable, and comfortable with multiple nights in the backcountry. Our schedule is going to be very open. We have 3 set dates. Carlsbad Caverns the morning of May 5th, we have a reservation at Candlestick on the WRT in Canyonlands NP on the 9th ( we just need the government to go back to work so I can get my permit), and we are pointing the Jeep in the direction of North MS (home) on the 17th. Mesa Verde is another strong possibility, Other places we are considering; Whitesands(very probable), Petrified Forrest, Lake Powell(Halls crossing Ferry), Goblin Valley SP, Arches NP(for sure), and Great Sand Dunes NP. Still also thinking about Grand Canyon North Rim, Capitol Reef NP, and Grand Staircase Escalante. I know all of that is not possible in 2 weeks. We want to see as much as we can without rushing too much. I will be posting a trip report, video and pics after the trip. I will also try and get some pics of the rig and some of our gear and mods in the weeks to come. I still need to install the lift. Any suggestions on other sites to see, amazing camp sites, great out of the way places to eat, off Hwy routs to connect these points, our any other info or advice is appreciated.

01-18-2019, 11:51 PM
JK Jedi Master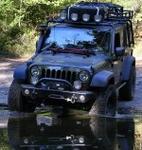 ---
You have too much for a two week trip. And your hard points are driving part of that. I'd drop Carlsbad Caverns and stick to the area around southern Utah, Northern Arizona. A couple examples: You need three days--better yet four--to drive White Rim Trail. Yeah, you can do it in a single day. And regret that the rest of your life. Stop and enjoy the experience. Camp at least two nights. Capitol Reef demands at least two full days. You can camp at Cathedral Valley Overlook--five or six sites, first come, first serve. There's also another campsite on the southern side of the park (Waterpocket Fold) that is similar. You'll want to drive both Cathedral Valley (a full day) and Waterpocket Fold (at least a half day, then loop back to Torrey/main park campground via Burr Switchbacks/Trail, Boulder, and Dixie National Forest). Or, continue down through Waterpocket Fold and spend night at Bullfrog, then catch ferry across Lake Powell in morning. As you drive to Capitol Reef from WRT you'll pass near turn-off for Goblin Valley. If you study topo maps, you can find an off-road trail that also takes you to Goblin Valley. Have not driven it myself, but it is gated and signed on Hwy 24: 4WD Vehicles Only. Once at Hall's Crossing, continue down the Moki Dugway and at the bottom of it turn into Valley of Gods. You can camp for free there--first come, first serve, again. Or, you can camp (pay) at Goosenecks State Park. Be sure to take in Monument Valley, which isn't very far away. Then maybe start looping back towards home, traveling to Great Sand Dunes and Mesa Verde National Parks. You can depart Great Sand Dunes via Medano Pass--a 4WD trail that will place you in the middle of nowhere, Colorado. Be prepared with adequate gas--your GPS may lie to you about gas stations being out there--mine did--they are very few and far between. While in that area, you may want to also visit Black Canyon of the Gunnison.

FYI, national parks rarely have anything beyond toilets. Only the biggest ones have showers. State parks sometimes do. KOAs, of course, always do. Big truck stops make good places to catch a shower when traveling.
---
Last edited by Mark Doiron; 01-18-2019 at

11:53 PM

.

01-18-2019, 11:59 PM
JK Jedi Master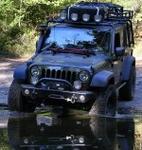 ---
BTW, if you think you'd rather visit Carlsbad Caverns, then I'd drop all of the southern Utah/northern Arizona stuff and instead visit Guadalupe Mountain National Park, White Sands, Bosque del Apache, Three Rivers Petroglyph Site, Gila Cliff Dwellings National Monument, Big Bend Ranch State Park, Big Bend National Park, Davis Mountains State Park (including the nearby MacDonald Observatory). There's some great stuff out there, but not nearly as "wow" as southern Utah.

01-19-2019, 05:24 AM
JK Enthusiast

---
Thanks for the suggestions, Mark. I know that is too much for 2 weeks, just a bunch of spots we were considering. Our daughter is very set on seeing Carlsbad Caverns, and after us watching your "Moab Overland 2013" video series, WRT is a must do. So, I guess we will just spend 1 day driving from southern NM to southern Utah. I like the Capitol Reef suggestion, we will probably add that in after Canyonlands. Is there any backcountry camping at or near Bullfrog Crossing on the edge of Lake Powell? The Medano Pass Rd out of GSD NP looks like a great way to exit the park and start home. Its gonna be a fun trip! I can't wait!

01-19-2019, 06:57 AM
JK Jedi Master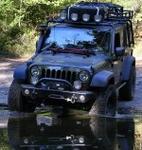 ---
I'm not really sure about backcountry (dispersed) camping right there at Lake Powell. But about an hour north you can camp in the first come, first serve campground along Waterpocket Fold. There are only about five or six campsites there, so shouldn't be overwhelmed with other people. There's a lot of BLM-managed lands in that area, and some responsibility is shared with the NPS, so you need to check who's responsible and find out what their rules are for exactly where you'd like to be. Dixie National Forest is also up there, so throw the USFS into the mix of land managers and rule makers. You could also head up into the Henry Mountains. There is at least one USFS campground in there. The only time we stayed there, not only did we have the campground to ourselves, but we had the entire mountain range to ourselves. Set up primarily for hunters, outside of hunting seasons it is empty. And, maybe like us, you'll get to see the herd of bison that live up there stampede. You could access that from the Waterpocket Fold. Or come down the east side of the range from Hanksville, then cross the mountains at the pass. Spectacular views from up high into both Canyonlands (to the east) and Capitol Reef (to the west).

02-12-2019, 08:22 PM
JK Enthusiast
Join Date: Jan 2009
Location: Job's in Kansas, Heart's in Colorado
Posts: 347
Likes: 0
Liked 0 Times in 0 Posts

---
This will be a trip to remember!

I know Colorado fairly well. Where will you be traveling through there? Lots of places and side trips in Colorado... Mesa Verde being a great historical place to visit, but not to wheel or camp.



02-14-2019, 04:39 AM
JK Enthusiast

---

02-14-2019, 04:43 AM
JK Enthusiast

---
Now that the Government is back to work, I have my WRT permit paid for and revised. New plan is we will be spending 2 nights on the WRT, 1st night will be at Airport A, and the 2nd night at Labyrinth B. Does anyone have pics or info on these sites I might need to know?

02-15-2019, 02:57 AM
JK Jedi Master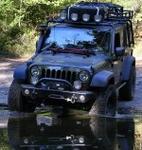 ---
I have not camped at Airport, though I've stopped there to use the pit toilet. You'll be in the area below Airport Tower, Monster Tower and Washerwoman Arch. If you look carefully at the canyon rim above you, you should be able to spot the renown Mesa Arch. This is the view from a short hike near the campsites ...
The image above is looking over Lathrop Canyon. You can drive into that down to the Colorado River. It is the only place on WRT where you can reach the Colorado River.
This is Mesa Arch, which, if you arrive before the visitor center opens to pick up your permit, you can easily visit before heading down Shaefer Switchbacks. Recommend catch the sunrise there ...
Even if you don't catch the sunrise there, it's still a nice view ...
Labyrinth B is at the mouth of Taylor Canyon. The winds can really whip up there, and there is no place to stake down a tent (you're on hard rock). There should be plenty of rocks to stack inside the tent, but other things might be better. Ray and I have learned to carry tire snow chains and a few bags of lead shot for that situation. This is the view at Labyrinth B ...
It's worth driving up Taylor Canyon to see Zeus and Moses (and Aphrodite and Thracian Mare) ...

02-15-2019, 06:53 AM
JK Enthusiast

---
Thanks Mark! Great pictures as always! That looks like a couple of nice spots. We will be in a RTT on our jeep so maybe it wont be too windy. We could always put the mattress in the jeep to sleep for the night. Either way its going to be a great trip!