250,000 Miles, Twelve Years

01-08-2019, 11:20 AM
JK Jedi

---
That's pretty impressive, but I want a count on the number of smiles it's brought you too!
That jeep has taken you more places in 12 years than many of us will see in our lifetimes.

01-10-2019, 12:30 PM
JK Jedi Master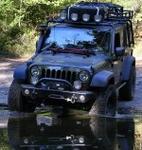 ---
Video slideshow about twelve years, and 250,000 miles of ownership of a Jeep JK Unlimited X. Most fun vehicle I've ever owned in a half century of driving.