250,000 Miles, Twelve Years

01-08-2019, 12:20 PM
JK Junkie
Join Date: Jun 2013
Location: Willow Park, TX
Posts: 3,927

---
That's pretty impressive, but I want a count on the number of smiles it's brought you too!
That jeep has taken you more places in 12 years than many of us will see in our lifetimes.

01-08-2019, 12:26 PM
JK Junkie
Join Date: Dec 2010
Location: Hampton Roads, VA
Posts: 3,376

---
Very cool Mark, to see someone stand the test of time and enjoy the vehicle the way you have.

01-10-2019, 01:30 PM
JK Jedi Master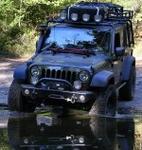 ---
Video slideshow about twelve years, and 250,000 miles of ownership of a Jeep JK Unlimited X. Most fun vehicle I've ever owned in a half century of driving.

01-10-2019, 07:03 PM
JK Junkie
Join Date: Jun 2013
Location: Willow Park, TX
Posts: 3,927

---
Enjoyed that video Mark! Thank you for sharing.

01-12-2019, 09:52 PM
JK Super Freak

Join Date: Nov 2011
Location: Over the hill
Posts: 1,267
---
Nice video Mark! Looks like a lot of fun per mile