Brake Pads - What do you like best and why?

03-27-2019, 05:46 AM
JK Enthusiast
Join Date: May 2013
Location: Texarkana, TX
Posts: 324
Likes: 0
Liked 0 Times in 0 Posts

Brake Pads - What do you like best and why?
---
I may be due for a brake pad replacement soon and would like your guy's opinion/recommendation on which pads are best or you like best and why? (specific manu./model)

Would prefer something that typically provides lower brake dust if possible. My current set up puts off a lot of brake dust in my opinion.

I have an '07 2dr that is probably due for brakes too.

Just looking at new pads. My rotors and calipers are upgraded with the Currie 60s.

Thanks.

03-27-2019, 09:11 AM
JK Enthusiast
Join Date: Aug 2013
Location: Westerville, Ohio
Posts: 201
Likes: 0

---
I've only had to replace the rear brakes on my '13. I went with Wagner OEX pads and they have been great so far. I haven't had a single issue with brake dust with them.

03-27-2019, 11:35 AM
JK Junkie

---
Wagner OEX were a good pad for me but I moved to the Z36 pads from powerstop and I've really been enjoying them. The Hawks put out too much dust IMO. They're good, but not worth the dust. The OEX doesn't put out the same level of dust and seems to stop as well as the green Hawks.

03-27-2019, 03:08 PM
JK Junkie
Join Date: Feb 2012
Location: brick, nj
Posts: 2,827
Likes: 0

---
Originally Posted by DEJK2012
I use the Hawk Performance the LTS i believe. but im on stock rotors and calipers. have no complaints, the dust isent to bad, and they do their job.
I have the hawk Lts pads front and rear. They stop great but put out substantially more dust than the oem pads. I wouldn't recommend them based on my experience.

03-27-2019, 05:01 PM
JK Freak
Join Date: Nov 2013
Location: Sweet Home, TX
Posts: 832
Likes: 0

---
I've got 125,000 miles on my 13' 2door. On my third set of pads in the rear, was running EBC yellow stuff, now and running their Orange. Like them pretty good. I have black wheels, so if they are making more dust I haven't noticed.

The fronts are the original stock pads, they are still way thick, I don't think I will ever have to change them unless I decide to do a brake upgrade. I think they will outlive the Jeep.

03-28-2019, 12:35 PM
Super Moderator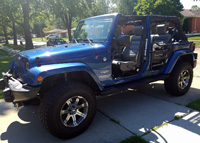 ---
Based on Karls experience and reading many reviews which were very positive, I tried the Powerstop Z36 pads. My experience thus far with them is they are everything I could want from a brake pad and I'll be sticking with them in the future.
- Low price
- No noticeable brake dust
- No noise
- Includes all the hardware with the pads (ie clips, anti-squeal, etc).
- Stop well
- Stainless steal back plate (won't rust)
- Life duration (???) TBD
- Wear on rotors (???) TBD (so far so good).

I had EBC Green stuff pads prior. The Powerstop Z36 pads cost half the price and are a better overall pad in my opinion.