Brake Upgrades

06-02-2018, 06:35 PM
JK Newbie
Join Date: May 2018
Location: Lake Stevens, Wa
Posts: 28
Likes: 0
Received 0 Likes on 0 Posts

Brake Upgrades
---
I have been looking at upgrading my brakes in the future. I'm currently running 35x12.50x17 wheels and tires on my 2010 JK. Other than the Terflex 2.5" lift everything else is stock minus a few other things but suspension wise that is it. Thinking as I add more weight it would be best to consider upgrades on brakes soon. Is power stop a good choice or what are you guys using both funtionality and price compare? I don't want to skimp out just to save $ but I also want to make sure for what I'm paying for is really, truly what the product is....

06-02-2018, 06:54 PM
JK Jedi

---
I've been looking at brakes a lot lately....one of the last things I'm getting around to addressing. I'm leaning towards the DT Pro Grips over the Teraflex, Mopar, or Power Stop big brake kits. Curious to see other's comments as they chime in.

06-02-2018, 06:57 PM
JK Newbie
Join Date: May 2018
Location: Lake Stevens, Wa
Posts: 28
Likes: 0
Received 0 Likes on 0 Posts

---

06-02-2018, 08:56 PM
JK Jedi Master
Join Date: Jan 2008
Location: Texas
Posts: 10,958
Likes: 0

---
I went with Teraflex Big Rotors just because of the price difference. A year and a half ago when I bought, it was roughly $600 for TF rotors/brackets (think I paid $730ish with pads?) vs $1000 for Dynatrac progrip. And I see that progrips are up at $1100 now? I like my PR44 just fine, but couldn't justify the ProGrips for that extra $270 ($370)

06-03-2018, 04:18 AM
JK Jedi

---
The thing that kind gets me about the DT package....you can buy all the replacement parts individually now. 2 front rotors, 2 rear rotors, set of front pads, and set of rear pads is $510 total. So the other $500+ is just the brackets to hold the calipers? That seems like a high price for the brackets IMO. The one thing I do like better about that set vs. the TF is you're getting the largest set of rotors possible, and if you're not going to get in to changing calipers, master cylinder, and booster......seems like you'd want as big as you can go on rotors, but I'd agree....it's hard to look at and justify the cost difference over the TF when strapped for cash.

06-03-2018, 04:53 AM
JK Newbie
Join Date: May 2018
Location: Lake Stevens, Wa
Posts: 28
Likes: 0
Received 0 Likes on 0 Posts

---
All that being said I immediately said hell no to the DT price tag. Something that could save my life yes I get it but that's a lot of cash. I'll check out the others.

06-03-2018, 05:14 AM
Super Moderator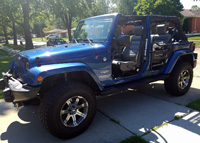 ---
I went with the Mopar BBK. I did the install prior to moving to larger tires, in anticipation that I would be moving to larger tires and be adding weight. At the time, I paid $730 for the complete kit. The way that I justified the cost to myself is that I waited until I needed replacement brakes. At that time, one of my front calipers had failed, likely due to I let the pads wear too far, where I would need to add replacement rotors, calipers, and pads. If I was to bring it into a shop and have them do the work, along with parts it would have easily cost me over $700 for replacement of the factory parts. So I decided to go with the BBK upgrade that I would eventually need, do the install myself and still be at a break even cost wise for the added braking.

There are multiple reasons I went with the Mopar BBK over the other aftermarket options.
1. It was the most "complete" braking system upgrade. All these items are important if you understand how each part impacts your braking system.
- Larger front rotors
- Larger bore MC and reservoir
- Larger brake booster
- larger dual piston calipers
- replacement brake hoses
2. They are all OEM parts. Let's face it, brakes have parts that will wear out where you know for a fact you will eventually need to replace the pads and rotors due to normal wear and tear. Therefore, when it does come replacement time, you can shop anywhere for those replacement rotors and pads, as well as calipers if needed. You don't have to go with a TF or DT specialty part where they will over charge you higher prices for those specialty part replacements.
3. It was the best value BBK while also being the most complete.
4. They're OEM parts. I know many seem to think aftermarket parts are better, but I don't agree. It just depends on what you focus on in regards to what you consider is "better". I work on the engineering developments of OEM and aftermarket parts. To be frank, OEM parts have to go through many more validation tests where corners can often be cut in the aftermarket world to save on costs. So yeah, when you see your aftermarket parts looking HD and pretty when you 1st receive them, things like the powder coating process which ensures they stay that way are often one of those corners that get cut. End of production line checks are another corner that gets cut, since those checks can increase your scrap costs. As a customer, you often become the end of line inspection checks and design validation tests with aftermarket parts.

Ask RK about the non necessary corrosion resistance validation tests on the powder coating with all their rusted suspension components and all their required continued maintenance they include with their parts. There are specific OEM tests for corrosion resistance that the OEM parts go through where these tests equate to 5-10 years of corrosion resistance requirements and if a part is found and returned as a warranty claim, the 1st questions that get asked in the OEM world are, "Why didn't your end of line inspection checks catch this, and what are you going to add to that inspection check to ensure further parts that get shipped out don't have these rust problems?" In the aftermarket world? "Oops, so sorry" and if you're lucky, they send you a replacement part and "maybe" consider making improvements to their manufacturing process. In the OEM world, they're shipping Millions of parts a year world wide. That sh*t don't fly, since even a $1 cost expense warranty return problem easily turns into a $1 Million expense based upon the volume of parts they build and ship out world wide.

You can even go watch some of the more recent TF marketing videos with Dennis on their TF HD Hinge carrier. They now mention as a selling point, "It's the ONLY hinge carrier on the market that has been designed and tested to OEM standards." That's because Mopar made them do that, since Mopar now sells it as an accessory. Mopar wasn't going to put themselves at risk that the hinge they were selling was going to have rust or other strength concern issues and end up costing Mopar a lot of $ in potential warranty returns.

Another thing I'll point out about the TF rear HD tire carrier since I have that setup including the rear brake light extension. Mopar sells the Hinge and Carrier. What they don't sell is the 3rd brake light extension. Guess which one of those parts the powder coat faded in color, and had rust problems within a year of having that setup? Yep, the brake light extension but the carrier and hinge still look great. You can do the math.
---
Last edited by Rednroll; 06-03-2018 at

06:14 AM

.

06-03-2018, 06:21 AM
JK Newbie
Join Date: May 2018
Location: Lake Stevens, Wa
Posts: 28
Likes: 0
Received 0 Likes on 0 Posts

---
Rednroll, very informative write up and thank you!

My plan is defiantly to go bigger on brakes for more stopping power and added safety concerns. I'll give your recommendations a once over or two before making my purchase and before deciding on one product over the other. I'm not one to go saying oh yea I got all this after market products on my Jeep its bad ass and bullet proof. That and I don't go advertising the product like bumper sticker on my jeep because I want a status look. I care less about being the guy on the block with all this Gucci after market product unless it will actually work as intended for and proven to. Don't get me wrong I run after market products but only after I know for a fact others have success.

Like my Ford Diesel a lot of after market products are garbage to save money and cut corners. Sure I can save money up front but typically a simple sensor that runs about $100 for my truck can be found for $50 half the price and guess what a week later or two it fails and I find out that I should have just gone with OEM.

I'm with you on the OEM stuff but there is also of course quality after market products out there too!

Again thanks for that very informative write up.

06-03-2018, 06:22 AM
JK Jedi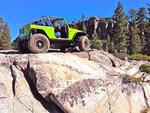 Join Date: Oct 2010
Location: Southwest Reno, NV
Posts: 5,196
Likes: 0

---
Originally Posted by
nthinuf
I went with Teraflex Big Rotors just because of the price difference. A year and a half ago when I bought, it was roughly $600 for TF rotors/brackets (think I paid $730ish with pads?) vs $1000 for Dynatrac progrip. And I see that progrips are up at $1100 now? I like my PR44 just fine, but couldn't justify the ProGrips for that extra $270 ($370)
Help pay for that recall they had,