OME 2" lift experiences?

12-02-2017, 06:22 AM
JK Newbie
Join Date: May 2017
Location: eastern sierra
Posts: 2
Thanks: 0
Thanked 0 Times in 0 Posts

OME 2" lift experiences?
---
first time posting to this forum. been doing a ton of research on this lift and others, here on this site and others.
Adding some weight to the front has me looking to either replace the front springs with something more appropriate for the load to possibly entertaining a mild 1.5"-2" lift. Regarding the OME 2" lifts i've seen some people reporting some large elevation gains! Which is one of the reasons i'm seeking some actual users experiences with a heavy front end light rear end combo that i have.
Cracking open pandora's box a bit more in considering a 2" lift. Been researching this like crazy.
planning to keep the oem rubicon wheels and 32" tires; if i do go to bigger tires it would be 33s max.
I did read the thread by Dirtman
My thoughts on lifts
. My rational for not going to a larger tire is I don't want to add the additional rotating mass which will reduce my 4.10 gearing and reduce my mpg which will reduce my travel range. we have a lot of big hills here and the gas stations are few and far between. We live in a fairly rural area in eastern california.
I've looked into/considered the AVE 2.5"and Mopar 2" lifts. but think the AEV is designed for more heavily loaded rigs than ours and would be slightly taller than I'd like. I really like that the Mopar 2" lfit has but sounds like it is more like 2.5"-3" of lift which is more than what i want. Wife and I are vertically challenged!
Reasons for entertaining a lift:
adding springs for the new bumper/winch is gonna add at least an 1" or more regardless to the front
gain some belly clearance when running loaded; lost a bit with new skid plates
at least maintain or slightly increase articulation ability; if i understand correctly, if i just add only leveling springs which result in gaining and don't increase shock length i will lose an 1" of down travel.
So I'm reading good things about the 2" OME lift, though i'm concerned though that I might be too light in the rear when running empty so looking for feedback on lift heights you all have seen with this lift. Specifically I'm considering the following:
2" OME lift (would add ~1" of shock travel over stock shocks:
front: 2628 or 2619 spring with OME nitrochargher sport shocks; add aev correction brackets
rear: 2617 spring with OME nitrochargher sport shocks, trackbar relo bracket
add jks adjustable links for rear, move oem links to front
add brake linke brackets
I talked to ARB and they recommended the 2619/2617 spring combo
though i did read a forum post where they had the 2619 and still got a bit more than 2.5" of lift with about the same bumper/winch wt!

here's how i'm loaded (2016 JKUR):
Base weights (unloaded):

front: I've added ~175lbs of steel bumper, winch, steel air dam skid
middle: ~40lbs of aluminum skids
rear: ~45lbs of steel bumper(10a); no tire carrier planned
Loaded weight (ie day trip):

me & wife: 300lbs
gear: ~100-200lbs? (recovery gear, camera gear, chairs, ice chest, etc.)
dogs: 150lbs (2 labs in the back)
not planning on adding a rack
Not looking to make a rock crawler. Has to have very good on road long distance highway manors. We mostly explore old mining roads. They're mostly rated a 2-3 with occasional short sections of a 4 based on Roger Mitchell's rating.
I use it as a daily driver so don't want it too stiff. I'm more than fine with having a factory rake when unloaded. Just don't want the back end so stiff that its skipping around like my 3/4 ton p/u does on small bumps (setup for a camper!)
So with all that said, would like to see what lift heights others have with this lift and similar running weights.
Starting to really understand what Just Empty All Pockets really means!
One mod leads to another, and another, and....
would appreciate feed back on similar setups to above or other recommendations. Thanks!

12-02-2017, 07:22 AM
JK Jedi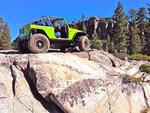 Join Date: Oct 2010
Location: Southwest Reno, NV
Posts: 4,988
Thanks: 0

---
I have run the OME HD and the no load standard 2" coils paired with the nitro sport shocks and with 5100's. The HD coils gave me 3"+ of lift with steel bumpers and a warn 8000 lb winch with steel line. I also had steel sliders and some steel skid protection under the jeep. The ride was not bad (firm) but was too high for just running 33x12.5" tires and the steering was a bit light. I swapped out to the no load coils (sorry don't have the part numbers) and the ride dropped about 1" and was nice and cushy on the road. Swapped over to the 5100 shocks and the ride became rougher.

For the weights you listed I would not consider it to be heavy at all. Factory coil rates are in the 200-230-+ pound range depending on the model so you would have to add over 400 pounds of weight to the front or rear to get a 1" compression (sag) in the coils. IF you are running steel line in the winch, switching to synthetic line would save you about 30 pounds and be much safer in use.

Not much you can do to the empty rear vs loaded rear unless you run such a heavy coil that it does not compress or run air bags. The jeep has a factory rake just for the purpose of leveling out when you throw 400 pounds of gear in the rear.
If you want to add some articulation them you need to add more then stock height at the end of the day. You need to gain 2" to allow you to run a longer body shock and actually gain articulation unless you are willing to move brackets.

If you need a hand or are in the area stop by and say hi.

12-02-2017, 02:47 PM

---
Years ago I put OME springs in mu 08 JKU. I went with the medium duty because I was concerned about height. I think the springs were 616 in the front and 617 in the back. I was surprised to end up with about 3" of lift. Steel bumpers and a winch settled things a little. For shocks I used Skyjacker for a 2" lift. Been driving it for years fully satisfied.
This summer I had an iron block GM LS 5.3 V-8 installed. Lost about 3/4" with the engine. I may go up a step on the front springs with the engine.

12-03-2017, 04:57 AM
JK Newbie
Join Date: Dec 2014
Location: Bright, Indiana
Posts: 90
Thanks: 0
Thanked 0 Times in 0 Posts

---
i ran into a thread some months ago about a guy who had 616 in front and 617 in rear and complained about front end sag with similar front end setup (except I think he had steel skids, not aluminum). I have the 616/617 kit (on a two door) and I am slightly sagging in the back with a weekend of camping supplies (this will be solved with a metal bumper and engine skid up front). I too wanted a very moderate lift with great on road capabilities so I was looking for as little lift as possible while still giving me some improved performance and most importantly giving me some room for slightly larger tires. The 617 in rear doesn't sag nearly as much as I thought it would and the guy I mentioned earlier shared my observations, so I think 617 in the rear is the right call. The front is a difficult call but if it were my rig I would probably go with the 616. I got plenty of lift on my two door in the front and I have not noticed too much "stiffness." While the springs will feel a little softer and grant a little less height on your 4 door, it will put you in a good spot for some bigger tires while retaining a low center of gravity (strive to get as much ground clearance from your tires, not your lift). Hopefully I have helped a bit but its ultimately up to you, take everything with a grain of salt. Remember that descriptions such as "light" and "heavy" on the OME kits are dependent on 4 or 2 door (I know this seems obvious but there has been a lot of misguiding info in forums because guys don't specify). Also remember that you can dial things in with the OME trim packers and even different coils. This is what I really dig with the OME lifts, they are sold as a kit or as individual parts so you can tweak and adjust and "build" your suspension system. Some guys don't like this but I do (you can easily replace front or rear coils for ~$170). I have attached a pdf doc with all the OME coils and their load, heights, etc. Most of the products for the JK are the 2614-2640 range (you can google most of them). I have marked certain part numbers on the pdf as Light, Medium or heavy but these descriptions are for a 2 door. Good Luck, and don't get too caught up in the numbers!
ome_spring_specs.pdf

12-03-2017, 05:54 AM
JK Newbie
Join Date: May 2017
Location: eastern sierra
Posts: 2
Thanks: 0
Thanked 0 Times in 0 Posts

---
thanks for the info guys!

searching the web on what heights people have gained with various lifts is difficult 'cause a lot of them don't clarify what there rig is or payloads. so its hard to establish a baseline view.

@Dirtman: just noticed you're in Reno, we're in bishop. bought our jeep in carson city last year. thanks for the offer! i did a little experiment and added 160lbs evenly distributed along the oem front bumper and got exactly 1" of sag. not sure if you're familiar with the oem spring numbers for the jks but mine are the 18ac in front.

@cb: thanks man, good info

@tilly: excellent info thanks! I have been talking with ARB and have a spreadsheet created using the info from the OME pdf comparing spring lengths, rates, and expected lift. the only wild card is i don't really know what the existing spring rate really is. ARB has given me some "expected" sag numbers for my front load and the 2616s. based on comments like yours and others i've found, i might just go with a 2628 front spring, as it's about 1/2" shorter than the 2619. the 2616, 2628, 2619 front springs all have the same spring rate of 135lb/in per the catalog, they're just varying the lengths.

the rear lengths of the 2617 is ~2.7" longer than my oem rear spring and a stiffer rate. so this one is a bit more of an unknown. guess i won't know 'til i try it. thanks again for the info!