Can't unplug driver's side rear O2 sensor on 2007

02-10-2019, 04:29 PM
JK Enthusiast
Join Date: May 2010
Location: San Diego, CA
Posts: 473
Likes: 0
Recieved 0 Likes on 0 Posts

Can't unplug driver's side rear O2 sensor on 2007
---
I'm getting codes indicating my driver's side rear O2 sensor is bad (one downstream one). I went to change it yesterday and I can't get the electrical connector unplugged for the life of me. It's located on the side of the transmission between it and the body. I can barely get my hand in there and the connector is blocked by other wires and hoses. I can get a partial grip on it but I can't release it.

Any tips from anyone who has swapped this sensor?

Thanks!

02-10-2019, 04:57 PM
JK Junkie

---
I pulled my connection when dropping the trans so it was easy. Did you check for a locking tab that may be preventing you from getting it unclipped? Also, dirt up in that connector can be miserable to get the wires disconnected.

02-11-2019, 05:28 AM
Super Moderator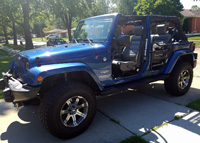 ---
I snipped the wires off where it connects to the O2 sensors since those wires only get in the way when you're putting the socket on the O2 sensor and after removing the O2 sensor it gives you a little more room to reach the connectors and the ability to wiggle the connector more since you're no longer having to fight the tension from the wires connected to the O2 sensor. You're replacing the O2 sensor anyways so no harm in cutting those wires on the sensor side. So I actually removed the O2 sensor before disconnecting the wire connectors. Check the sliding locking tab like Karl mentions as well.