Does the Uconnect 430N support playlists?

02-05-2019, 04:02 PM

Does the Uconnect 430N support playlists?
---
Does the 430N support .M3U playlists? They work flawlessly in the 8.4AN system in my KL Cherokee but the 430N doesn't seem to recognize any playlist files. Maybe the 430N just doesn't support them, but just checking in case there's something I missed...

Thanks -




02-14-2019, 09:52 AM
JK Enthusiast
Join Date: Aug 2011
Location: Palmdale, CA
Posts: 277
Likes: 0
Recieved 0 Likes on 0 Posts

---
I also have a 430N with a USB connection on the face of the radio and another USB port inside the center console storage area as I'm sure you do too. (For reference, the 430 requires a separate U-connect module whereas the 730 does not). Most of the time I play my music through the USB port built into the radio.

I don't use playlists on the USB stick but do have and use them on my Ipod. Playlists on the Ipod are recognized when plugged into the center console USB. I use the center console port for my IPOD where it is out of sight (and out of the way). However, we CAN play music from a USB stick on EITHER port. Be aware, though, the ports do not handle music files the same way. For example, the port in the center console will not show the folders for the music and all songs are in one big list. Whereas using the port on the radio you can select either songs on the root directory or from a folder and play music from that folder. It will also list the folder on the top line of the music display and will list songs that are in that folder below it even it it takes multiple screens to display all of them.

While I don't use playlists on my music stick my observations may be of interest to you. I mention these differences because many do not know or realize that these two USB ports handle music differently. You might find that using the other port may actually recognize a playlist. As an alternate, USB sticks are cheap so you may decide to use different USB sticks for a variety of "playlists".

Another difference that I have observed is that when a USB stick containing music is plugged directly into the 430 radio port it will (almost) immediately begin to play regardless of what you were listening to prior to plugging in the USB stick. Songs will play in alphabetical order until (or unless) the random function is selected. Each time the USB stick is inserted it begins again at the first song and if random was selected previously it is no longer active once the USB stick is removed. However, when the key is turned off or another music source is selected, it will remember where it was and begin playing again from that point still using random if it was previously selected. When on random, music will be selected from ALL folders.

When a USB stick containing music is plugged into the center console you must navigate through the menus to find, then play your music as it does not begin automatically. In other words, each USB stick is a "playlist (of sorts)" unless random is selected. IF you wanted a specific order for songs to play simply use an alpha or numeric prefix to define the order you want. Yeah, I know, that is kind of a pain but it will work.

As a side note, one of the things i like most about the 430N is that you can upload custom way-points. (Waypoints can only be uploaded using the front USB port.) I can then use these waypoints to navigate with. I have almost 2000 way-points for dozens of trails at my fingertips.

A little wordy, but I hope you find this information useful.

KG6SLC aka Eugene
---
Last edited by KG6SLC; 02-14-2019 at

01:13 PM

.

02-14-2019, 10:11 AM

---
I appreciate the comments and they are indeed useful. My research indicated that there might be a difference in the functionality of the on-head and remote USB ports, this seems odd but is apparently the case. In any event I do not have the remote USB port so I cannot determine for certain. I have as yet been unable to get the 430N to recognize .m3u files no matter what I do (using root directory and all played with all kinds of directory structures on both the drove and within the .m3u files.) The idea to simply use different USB sticks for different playlists is an interesting idea, thanks.

I wasn't aware of the ability to load custom waypoints and I will definitely search for that procedure, thanks again for the comments.



02-14-2019, 03:10 PM
JK Enthusiast
Join Date: Aug 2011
Location: Palmdale, CA
Posts: 277
Likes: 0
Recieved 0 Likes on 0 Posts

---
I posted instructions
how to load custom waypoints into the 430N navigational unit
in the
"jeep JK Wrangler" / "JK Electrical Lighting and Sound"
forum. That will give visibility to others that do not click on this topic.
KG6SLC aka Eugenee

02-15-2019, 05:30 AM
Super Moderator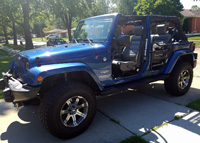 ---
I have the 730N head unit. Last year when 256GB USB sticks became affordable I decided to put my entire music collection on a USB stick which is in the neighborhood of 230GB in size and 30K+ songs encoded at MP3 320Kbps. Having so many songs I tried putting M3U and WPL playlists on the USB stick and they were not recognized by the head unit although all the songs were.

Since the head unit was unable to play playlists, I bit the bullet and purchased a 256GB micro SD card for $90 at the time and plugged it into my Samsung Galaxy phone with all my songs on the SD card where I use my phone to play the playlists and connect to the radio via bluetooth. This past December I was able to purchase 256GB Samsung Evo micro SD cards on Amazon for $40. I really think your smartphone is the way to go if you want to play playlists, unless you own an iPhone since Apple devices don't support Micro SD cards. That's the reason I stopped using the iPhone due to they refuse to support micro SD cards and expect you to either pay a premium for their phones with 256GB of internal storage, or stream everything from the cloud.
---
Last edited by Rednroll; 02-15-2019 at

05:34 AM

.

02-15-2019, 06:38 AM

---
BT streaming from my phone works fine, and that's a way to get playlist functionality. It just seems so weak that the 430N doesn't support them given that playlists are a pretty fundamental basic feature of any music player.

02-16-2019, 07:20 PM
Super Moderator