Heater Core replacement

01-08-2019, 11:41 AM
JK Newbie
Join Date: Jan 2019
Location: Maryland
Posts: 3
Thanks: 0
Thanked 0 Times in 0 Posts

Heater Core replacement
---
Could anyone out there please let me know what the correct replacement heater core is for a 2009 Jeep Wrangler Unlimited Sahara 4 door, six cylinder 4x4? A link would be great if possible. Thanks!

01-09-2019, 07:18 AM
JK Newbie
Join Date: Jan 2019
Location: Maryland
Posts: 3
Thanks: 0
Thanked 0 Times in 0 Posts

01-09-2019, 07:21 AM
JK Jedi Master

Join Date: Feb 2008
Location: Maine
Posts: 12,498
Thanks: 0

---
---
Last edited by ronjenx; 01-09-2019 at

07:33 AM

.

01-09-2019, 07:32 AM
JK Enthusiast

---
It isn't hard if you want to do it the easy way. Just cut the incoming and outgoing lines to the core, remove the bracket under the dash by cutting it, cut new lines to the same length, secure the core with heater hose and clamps, then pop rivet the removed bracket back into place using some small c channel. I fixed mine this way and have not had a problem. When it goes again, it will be another easy fix.

01-09-2019, 07:33 AM
JK Enthusiast

01-09-2019, 09:27 PM
JK Freak
Join Date: Nov 2013
Location: Sweet Home, TX
Posts: 799
Thanks: 0

---
Originally Posted by 07WrangX
Did mine this way in 2.5 hours last Saturday, including bumping the system afterwards (would have been quicker if I could have found my stupid hack-saw, haha!). Mines a 2013. I cut the bracket a little differently than some of the others, and was able to just leave it out. I lost one mounting screw below the glove box near the center consul, but you can't tell it isn't there, everything is still very solid. So I'm happy.

02-05-2019, 05:46 PM
Moderator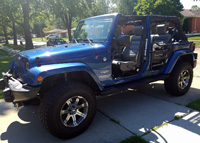 Join Date: Apr 2010
Location: SE Michigan
Posts: 3,747