No start on first try

02-18-2019, 06:35 AM

No start on first try
---
I have a 2012 Jkur that usually will not start on first try,it just spins over then sputters out,turn the key a second time and starts right up .Ive checked connections,battery is tight ,doesnít matter which key I use or if I turn key and give it a few seconds before I try and start.I researched for similar problems before I asked and everything I read that seems to cause this has checked out of other than checking fuel pressure before first start up .It has never left me stranded but didnít know if it will eventually,battery is fairly new and seems to have plenty of power and voltage is good .

02-18-2019, 04:11 PM
JK Enthusiast

---
Whatís the longest you let it crank? On my ride if itís a hot day, for some reason I can experience the same thing. Only thing I can think of is vapor lock. I have a new battery and it will still do it on occasion.

02-21-2019, 01:57 PM

---
Guys I appreciate the guesses but I have already exhausted my own guesses and theories ,really looking for someone who has had this problem and what they found to solve it ,the Jeep is highly serviced and is not throwing any codes currently

02-22-2019, 04:54 AM
Super Moderator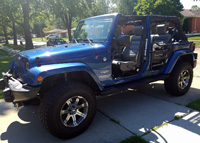 ---
How did you try pulling the codes? Not all code readers are equal.
I'm not trying to be confrontational but to be honest, you're also being a bit naive in thinking one symptom will have the same fix. All the things suggested could cause the symptom you're describing. As an example, you can read a 1000 posts on these forums about the JK Wranglers blowing cold air from the driver's side heater vent, which is a general symptom for a poor performing heater system but there's 10+ different repairs to fix that poor heat....ask me how I know.
Additionally, you also haven't informed us what you have and haven't done. Without knowing what you have done and checked is like asking everyone to read your mind. If you could at least list the items you had replaced or checked, then that would provide others the ability to identify other potential causes you may have overlooked. You really have to help others before they can help you or otherwise we're just throwing out guesses as you're observing.
In general with dyno fuel combustion engine vehicles there is gas and there is spark as you noted. If the engine is getting both of those at the right time, 99% of the time it will start. If it's not starting, then something within the system which could be a 1000 different other items could be causing the problem.
---
Last edited by Rednroll; 02-22-2019 at

05:08 AM

.

02-24-2019, 06:57 AM

---
We have quite a nice setup at the shop and have not found any codes other than an occasional .oo2 % evap leak ,I'm not asking about all the things that can cause this or for someone to walk me through all the diagnostics ,we have been researching and checking all the grounds ,fuel pressure at startup etc ,I specifically asked if " anyone has had this problem" question. I appreciate the help but I'm at the end of my guesses and tests and was just asking a question and seeing if anyone had similar issue with a fix they found .