noise after spark plug change

04-01-2019, 11:02 PM
JK Newbie

noise after spark plug change
---
Hello all,
I just did a spark plug change on my 2013 jeep jku 6 speed due to a misfire in cylinder 2 code (p0302). I have noticed a noise like a knock/tick while in idle and a little while on the gas. it idles at a good rpm just sounds rough. are there any thoughts as to why this is happening? I believe it could be because a possible coil pack isn't fully engaged with the plug and the arc is jumping but there are is no longer a check engine light and no code for a misfire. would this problem throw a code for misfire?
Thanks for helping!

04-02-2019, 01:02 PM
JK Newbie


---
I used Champion Iridium- Boxed - RER8ZWYCB4, I got them from advanced auto parts and seemed to match the dealership plugs would they be different in any way and i also gapped them correctly to .043

04-02-2019, 04:09 PM
JK Junkie
Join Date: Feb 2012
Location: brick, nj
Posts: 2,833
Likes: 0

---
I assume you pulled and reinserted the wires just to make sure they were seated properly? My daughter had a Mitsubishi Eclipse that was idling rough. Turns out that one of the plug wires wasn't seated well.

04-02-2019, 04:43 PM

---
A ? how many miles on your 2013? I believe the coil packs are held in by a retaining bolt; so how could it not be properly seated on the plug? Also you did the right thing going with the Champions (factory plug).

04-02-2019, 06:21 PM
Super Moderator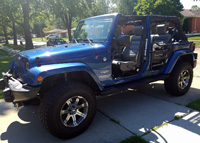 ---
Many have had problems with non factory plugs. They think they're doing a good thing by getting a "hotter" or "premium" plug but then the electronics kick in and notice the plug is not the expected impedance, and it's running hotter than the factory plug and the computer starts to re-adjust and problems start to be observed. So it's best to stick with factory plugs in most instances. Anything outside of that is always suspect.
Same thing with wires, but it sounds like the 3.6L doesn't have those.
---
Last edited by Rednroll; 04-02-2019 at

06:25 PM

.

04-03-2019, 07:57 AM
JK Newbie


---
80,000 miles on the jeep and each one is seated properly after going and checking each plug again which was a pain having to take off the plenum again... but everything looked be in order and torqued back to factory spec. after driving for a few minutes after the p0302 code popped back up. I'm thinking it could be possible injector or piston problem at this point because i switched the coil packs to make sure that wasn't the problem either.

04-03-2019, 11:53 AM
JK Junkie
Join Date: Feb 2012
Location: brick, nj
Posts: 2,833
Likes: 0

---
Are you certain you are not covered by the cylinder head problem that happened in some 2012 and 2013? Chrysler extended the warranty on all 2012 and some 2013 jeeps to 150,000 miles due to a cylinder head problem. Some people with that problem got the same code you have, as well as the ticking sound.
---
Last edited by rob_engineer; 04-03-2019 at

11:58 AM

.