P0480 - How to Diagnose 3.6 PWM Fan Issues

06-25-2018, 05:55 PM
JK Newbie
Join Date: Jun 2018
Location: Overland Park, Kansas
Posts: 4
Likes: 0
Received 0 Likes on 0 Posts
P0480 - How to Diagnose 3.6 PWM Fan Issues
---
I've searched the forums quite a bit, and while I've found some related threads, none of them have lead me to a solution. Apologize in advance if my search-fu was insufficient, however:
I have a 2015 JKU, and this past weekend threw a P0480 code, which is a fault of the Fan Control Circuit. After the code occurred, my Jeep began to overheat while idling in a parking lot, and I have since confirmed the radiator fan is not ever running.
I've learned that for the 3.6L, the fan is controlled by a pulse-width modulated exciter signal from the TIPM. I'm having trouble hunting down the source of the problem, however. Here's what I've done so far:
I've checked the J19 60A fuse. I have continuity. I've replaced it just in case without any change.
I've checked the K11 low-radiator-fan relay inside the TIPM, and it opens as expected and has very low resistance, so it seems to be good.
I also checked the two 56055667AB fan relays near the master cylinder in front of the driver's seat. Though I'm honestly not sure how they are related to the wiring of the fan, but they are labeled as an official mopar part labeled "fan relay". I considered they might be related to the blower fan rather than the radiator fan...
I've disconnected the harness going into the fan (near the radiator cap) and confirmed it it delivering a solid 12V signal and is grounded (though I can't say with a certainty the ground is super solid; I've seen a couple reports of faulty grounds with the fuse-able link; I'm going to try and double check that).
Where I've gotten stuck is:
If I jump the fan to my battery by providing 12V, ground, and a 12V direct signal on the PWM exciter terminal, nothing happens (the fan doesn't try to spin). While my first inclination was to think this means the fan is broken, I don't know if the 3.6L fan will actually turn on when given a solid 12V signal on the exciter wire, or if it needs a more specific signal since it's variable based on the duty cycle. Is this a valid way to test the modern fan on the 3.6 JK?
I've also connected my multimeter up to the exciter terminal and the ground coming from the harness to the fan, and I am never detecting any voltage from the PWM exciter terminal. I've run from a cold start up to 230 degrees with the harness detached and the multimeter in place, and even with "MAX HOLD" on, the multimeter never detected a voltage. I don't know if this might indicate a TIPM issue, or if I'm simply testing the signal wrong. I also don't know if the code has to be reset for it to even try to enable the fan. Is this a valid way to check the voltage from the TIPM for fan control?
I've looked at the BBB Industries Wiring Diagram, but there is no indication of the external fuses or relays in the system, and there are no schematics for the PWM signal itself.
In short, before I spend money on either the TIPM or the fan replacement, I'd like some way to confirm that both or neither sides are malfunctioning. I'm still missing some piece of the puzzle as to why there are two "high" fan relays on the driver's side of the engine compartment (or if those are even related), as well as a "low" fan relay and the purpose it servers -- especially when there is also an always-on large gauge power line directly to the fan. I would've guessed the PWM is responsible for the variability of the fan speed and any relays would be built into the 400 dollar fan assembly itself - since that's the tradeoff of this designed compared to the 3.8L models.
I've had a friend suggest I should just pay the diagnostic fee for a Jeep dealership to test things, which if I can't get a concrete answer myself is probably what I'll have to do, but if there is anyone with any experience with the later JK cooling system, advice or diagnostic tips would be very appreciated!
Thanks!

06-26-2018, 03:56 PM
Super Moderator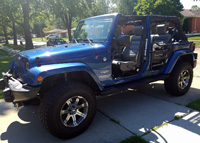 ---
It sounds like you have done quite a bit of diagnosis already and I haven't personally experienced this problem. I'm unsure what you've already found for diagnosis research but here's what I was able to find.
P0480= Cooling Fan 1 Control Circuit Open.
Everything seems to point to the cooling Fan Relay as being the fault as you suspect for that code, maybe just need to determine the correct relay and location?
Here's some videos I came across with the same code, from other FCA vehicles which I will assume have similar DNA.
Dirt in Fan housing

06-26-2018, 06:13 PM
JK Newbie
Join Date: Jun 2018
Location: Overland Park, Kansas
Posts: 4
Likes: 0
Received 0 Likes on 0 Posts

---
Thanks for the research, I appreciate it!
Yeah, I've run into these videos among others; unfortunately the specific setup on the Pentastar 2013+ is rather specific it seems. 2012 and prior Jeeps are setup with a dual relay setup, where-as 2013 and newer are using this PWM variable speed outrunner setup.
There were some interesting details here:
https://wayalife.com/showthread.php/...roken-3-6-help
!
In particular:
If you want to do a few checks unplug the fan connector and check the two large terminals for 12V. The terminal should read with the key on or off, it doesn't matter. The 3rd wire is control and I was told by the service manager at IPAC Jeep in San Antonio that you can jumper that to +12v and the fan should run on high. He didn't know exactly the voltage but gave the example of 6V low and 8V medium. Since they are variable speed fans voltage on the control wire will vary.
But, this was followed directly by this:
For 2013+, this is completely wrong!!! The third wire is a pulse-width modulated duty cycle signal. It is NOT a simple voltage.
That leads me to believe it may not be as simple as just jumpering the signal wire to get the fan to run. If it expects a certain pulse width for the duty cycle, there isn't much I can do to "simulate" that.
Unfortunately, I've checked a variety of relays, and have yet to find one that could be a problem. I'm going to check my grounds, clear the code, and try to diagnose again. I'm thinking an oscilliscope may be required to actually diagnose the PWM signal, which is not going to be something I have on hand.

06-28-2018, 08:00 AM
JK Newbie
Join Date: Jun 2018
Location: Overland Park, Kansas
Posts: 4
Likes: 0
Received 0 Likes on 0 Posts

---

06-28-2018, 04:32 PM
Super Moderator

---
Originally Posted by
realjenius
You should post this as a write-up on the forum! Great job!

06-29-2018, 06:31 AM
Super Moderator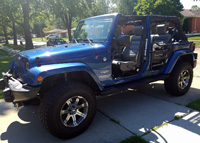 ---
Great Write-up. One thing of note, since you mentioned you had troubles trying to verify the PWM voltage to the fan due to having a lack of tools. If you know it's a PWM voltage that should be present, then you could have used a Volt meter and put the meter to read AC Volts RMS. The voltage reading won't be 100% accurate, but as long as there is a voltage reading, and that reading is below 14 volts (The DC voltage reading of your battery) with the engine running, then you know you have a PWM present.
For some further insight, here's a measurement I took using my O'scope and probing our JK's headlight PWM. You should notice with my scope I turned on V "mean" to get the average voltage which came out to be 12 Volts, when the BATT voltage was 13.9Volts (ie DC Battery voltage level).
So while a voltage won't be 100% accurate of a PWM using an AC volt meter, taking a measurement with a volt meter should be able to provide you some insight. As well, some multi-meters have a Frequency and Duty Cycle measurement function which could also be used on a multi-meter and you can see what those readings would look like, since I turned those measurements on my scope as well.
Here's a good video that explains the inaccuracies of your readings using an AC volt meter, but that doesn't mean you still can't get some kind of indication that the PWM voltage is present.
---
Last edited by Rednroll; 06-29-2018 at

06:34 AM

.