Backspacing conflict for 37" tires with Metal Cloak 3.5" Game Changer Rocksport

10-09-2017, 03:03 PM
JK Enthusiast
Join Date: Aug 2011
Location: Palmdale, CA
Posts: 264
Thanks: 0
Thanked 0 Times in 0 Posts

Backspacing conflict for 37" tires with Metal Cloak 3.5" Game Changer Rocksport
---
I am anxiously awaiting the arrival of my 3.5" MetalCloak Game Changer Rocksport. Last Saturday I also purchased 37/12.5R17 KM2 tires with the intent of mounting them on Method NV machined wheels 17"x8.5" 5x5.0 bolt pattern with 4.75" backspacing.

This setup is for my 2013 Rubicon JKU 10a. I am also changing out my front Drive Shaft & adding exhaust spacer.

Checking with Metal Cloak on this configuration, they stated that it would be OK on the street but offroad my tires would rub when turning. They are recommending backspacing of 3.5" to 4.0". (????)

What backspacing and wheels are you running with your Game Changer 3.5" lift?

KG6SLC aka Eugene

10-09-2017, 03:26 PM
JK Jedi Master
Join Date: Jan 2008
Location: Texas
Posts: 10,690
Thanks: 0

---
I'm running 4.5" BS rims + 1.5" spacers - giving a 3" backspace.
Some guidelines are posted in the Thoughts on Lifts thread, stuck right to the top of this Modified area:
Net max back spacing:
5.5" for a 33x12.5
4.5" for 35x12.5
3.5" for 37x12.5
1.75" for a 40x13.5

10-09-2017, 03:54 PM
JK Freak
Join Date: Feb 2012
Location: La Quinta California
Posts: 685
Thanks: 0
Thanked 0 Times in 0 Posts

---
37x12,5R17 tires on ATX Slabs with 3,5" backspacing in the Game changer lift and no problems. 2" bump stop in the front and only 1" in the back.

10-09-2017, 05:57 PM
JK Super Freak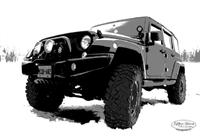 Join Date: Apr 2008
Location: Thunder Bay, Ontario
Posts: 1,262
Thanks: 0
Thanked 0 Times in 0 Posts

---
4.75 BS + 1.5" spacers for 37x12.50x17 Pitbulls

10-10-2017, 05:21 AM
JK Junkie
Join Date: Jun 2013
Location: Willow Park, TX
Posts: 3,147

---
Your question is more about the tires than the lift. with a 37x12.5, 4.75" BS is too much. You can get by with 4.5" BS and a few washers in the steering stops, but you'll still have a tiny bit of rubbing under full articulation. You really do want 3.5 -4" BS for a 37. Outside of different wheels, you're looking at spacers.....unless you just don't care about the rubbing and loss of steering range.

10-10-2017, 06:25 AM
JK Jedi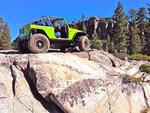 Join Date: Oct 2010
Location: Southwest Reno, NV
Posts: 4,929
Thanks: 0

---
lifts really have nothing to do with needed back spacing like resharp said Tire size and amount of suspension travel will dictate that. Cancel your wheel order and find ones that have a 3.5" BS or have method build your wheels to your specs.

10-10-2017, 05:03 PM
JK Newbie
Join Date: Feb 2016
Location: Sioux Falls, SD
Posts: 70
Thanks: 0
Thanked 0 Times in 0 Posts

---
So, I currently have 17ā€ Fuel Anza wheels with 3.5ā€ backspacing. Iā€™m looking at either the 37x12.50 Nitto Ridge Grappler or the 37x13.50 Cooper STT Pro. I have Rock Krawler arms. What do you guys recommend for the Coopers? A few washers on the steering stop and stick with my current wheels as well? Add spacers? Change wheels?

10-10-2017, 09:30 PM
JK Enthusiast
Join Date: Aug 2011
Location: Palmdale, CA
Posts: 264
Thanks: 0
Thanked 0 Times in 0 Posts

Thanks all
---
Thanks to everyone that chimed in.

In actuality I was only planning on getting 35" tires with the Method NV wheels I mentioned in my first post. However, while making the deal with the salesman, he stated that with that lift I could easily go to 37" tires with no problem. Multiple people in the store at the time agreed. At the time I recalled that everyone on the forums had stated that they wished they would have just gone with 37's. Since both the 35" and 37" tires both were the same width, I decided at the counter to go with 37" not realizing that the 4.75" backspacing would not be OK with the 37" tires. As a precaution I subsequently called Metal Cloak to get their input...hence, this thread.

I know of someone that is running the same 37" tires with 4.5" backspaced wheels and has been for some time now. He states that he only rubs slightly when at full lock and with the wheeling that he does he is OK with that so 4.5" seems to be at the bottom of acceptability with lower backspacing preferred.

Some people I have talked to state that spacers are an option but to be on the safe side, I am changing my wheel choice.

Thanks again,

KG6SLC aka Eugene

10-11-2017, 05:05 AM
JK Junkie
Join Date: Jun 2013
Location: Willow Park, TX
Posts: 3,147

---
This is really the best thing. Do it right to begin with and not have to worry about it again. Also, with less backspacing you'll have the option to run either a 13.5" or 12.5" 37.
I'm sure you've read through a lot of threads on such topics, but expect a 3.5" lift with 37s to cost a bit more than what you think your upfront cost is going to be. I don't see any upgraded steering in your profile build. Expect to replace TR, DL, BJ's, front drive shaft if you haven't already done so. Surely you're planning a regear too.