My 4x4 SPOD caught on fire

07-17-2017, 10:20 AM

---
WHOA!!! Looks like I'll be running a circuit breaker ASAP!!! Sorry man that really sucks, glad to hear they are taking such good car of you on it though.
Any links for the circuit breaker your using? It looks pretty serious.

07-17-2017, 11:27 AM
JK Junkie

---
Glad you were lucky enough to catch it when you did. That is definitely a scary situation. Also glad to see that the guys at sPOD were on top of it and initiated contact with you. Their market starting to get flooded with imitators, and nice to see that they are 1) paying attention to what's going on, and 2) standing behind their product with some good customer service.

07-18-2017, 10:01 AM
JK Newbie
Join Date: Feb 2016
Location: Lake Forest, ca
Posts: 25
Thanks: 0
Thanked 0 Times in 0 Posts

---
Good to know they are taking it seriously and looking into the cause. I have two SPods in my Jeep and there are probably hundreds installed on Jeeps just on this Forums members vehicles alone. Both of my systems have the same circuit breaker you showed. I will subscribe to this thread and anxiously await the results.

Great catch and great Jeep save!!!

07-18-2017, 07:20 PM
JK Junkie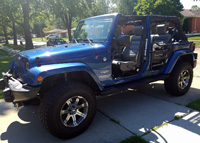 Join Date: Apr 2010
Location: SE Michigan
Posts: 3,260
Thanks: 0

---
Additional circuit breakers would have likely been futile in this case. The SPOD has (3) 15 amp fuses, and (3) 30 Amp fuses and an additional 50 Amp reset circuit breaker, according to the specs listed here.
https://www.affordablequalitylightin...QAvD_BwE#Specs
The device is meant to power lights and other high current draw circuits. Even the lowest 15amp rating current draw is plenty to start a fire.
It is often a misunderstanding that fuses will prevent fires from starting within electronics. They'll prevent a fire when there is a direct short between Power and Ground and that's about it, because that's what it will take to blow the 15 and 30 amp fuses that are already built into the SPOD.
It's those lower current draw circuits that start to get formed when things get wet is what you need to worry about.
The coolant that got sprayed on top of the SPOD is not very conductive. However, when that coolant flows over the top of things, it will pick up contaminants from the surfaces it runs over. A highly suspect contaminant in this scenario is flux that may have been left over from when the SPOD got manufactured. Flux is what is used so that solder flows adequately to join 2 electrical parts together. Flux is also conductive. So once that coolant picks up any of that left over flux, the coolant also then becomes conductive. Then it starts to form circuits that weren't originally intended. Those circuits cause components to heat up beyond their rated current draw values. For example, a typical coil within a relay is rated to handle around 1 Amp of current. What happens when a circuit is formed that causes that coil to draw 2-10amps of current? Well, it's a coil of wire that starts to heat up just like a filament in a light bulb so it will start to get red hot. That coil of wire is surrounded by a plastic relay housing. What happens when you heat plastic up? It starts to melt and then eventually catches on fire. So that all can happen while the SPOD was only drawing 2-10 Amps of current. So how are you going to protect against that, when the SPOD is already using a fuse that is rated at 15 amps? The answer is that you can't. However, in actuality you can, if you design it by considering these types of safety concerns. You use a thermal fuse in the design. Have you ever noticed electronics like microwaves, and hair dryers have thermal fuses in them with these home appliances? Well, that's what they're there for to prevent situations exactly like this one from occurring. Ask the designers of the SPOD where their thermal fuses are located in their design. I'm having a hard time identifying any. Maybe they got burned up in the fire?
---
Last edited by Rednroll; 07-18-2017 at

07:41 PM

.

07-19-2017, 06:04 AM
JK Enthusiast

---

07-19-2017, 06:09 AM
JK Freak
Join Date: Jul 2013
Location: Santee
Posts: 641
Thanks: 0

---
This isn't the first time I've seen an Spod do something like this. I've seen the hot side of the relay base work it's way loose on the board (cold solder joint or something) and arc and create heat and burn the board and the base of the relay base and the fuse holder. We caught it in time to prevent a fire but it could've easily been a source for a fire.

07-26-2017, 10:11 AM
JK Freak
Join Date: Aug 2010
Location: Los Angeles, CA
Posts: 730
Thanks: 0
Thanked 0 Times in 0 Posts

---
Any chance you can get the pics working again?

07-26-2017, 10:49 AM
JK Newbie
Join Date: Oct 2015
Location: Durango, Colorado
Posts: 44
Thanks: 0
Thanked 0 Times in 0 Posts

---
Just got the photos re uploaded. Damn photobucket. The sPOD just got to them last night. Ill post updates when I here back

07-29-2017, 02:37 PM
JK Enthusiast
Join Date: Apr 2011
Location: Denver, CO
Posts: 437
Thanks: 0
Thanked 0 Times in 0 Posts

---
I will be watching for the updates. I have recently installed an Spod on my Jeep. I like it alot, so I am hoping not to have this issue. Thanks for the post.