removing the two catalysts converters under the JK

04-12-2019, 08:39 AM
JK Newbie
Join Date: Apr 2019
Location: Springfield, MO
Posts: 11
Received 0 Likes on 0 Posts

---
Did. And o2 sensors. For some reason the code randomly comes up. Not sure why. Only reason I want it gone is so I can use remote start. Runs fine. Pressure through cat is fine. Had shop look at it several times.

-Ben

04-12-2019, 08:48 AM
Super Moderator

---
So you're vehicle is coming up with the catalytic converter not working correctly? Have you looked at what the computer is getting for the readings from your downstream O2 sensors? If you've replaced the catalytic converters and the O2 sensors... then the next thing is one of the wires to the downstream sensors could be bad and causing the computer to get a reading that has convinced it that you have a bad catalytic converter.

EDIT - you'll need to have someone with the tools to read the live data coming from the O2 sensors... not sure if something like Torque (Android app) and a Bluetooth OBDII reader will give you that info on the Jeep. I know it does on my L96.
---
Last edited by jedg; 04-12-2019 at

08:53 AM

.

04-14-2019, 10:45 AM
JK Super Freak


---
Ben, what brand O2 sensors and cats did you replace with? We're all four O2 sensors replaced?

04-15-2019, 05:05 AM
Super Moderator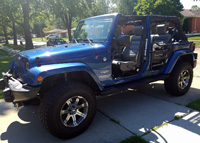 ---