UPGRADING TO 37"s! NEED HELP!!

01-31-2019, 07:37 PM
JK Newbie
Join Date: Jan 2019
Location: St.Louis
Posts: 1
Likes: 0
Received 0 Likes on 0 Posts
UPGRADING TO 37"s! NEED HELP!!
---
I want to get 37" tires with at least a 4 inch lift. I need to know what else I NEED for my 2012 Unlimited Sport (Manual). Only want to know what is required to make sure the jeep stays safe and durable, Any suggestions will help.
Thanks

01-31-2019, 10:04 PM
JK Jedi Master
Join Date: Jan 2008
Location: Texas
Posts: 10,958
Likes: 0

---
There are a few threads stuck to the top of the Modified JK Tech section. Start there.

The only thing you NEED for a 4" lift is 4" coils or spacers. But, there are many things you will likely WANT...

Rims/adapters that net a backspace in the 3-4" range. Longer shocks. Adjustable trackbars to center both axles. A rear raised trackbar bracket might be a good call, as would steering correction up front (draglink flip, high steer, drop pitman - research the pro's/con's). Some type of correction for the caster/pinion. (Cams, fixed control arms, adjustable control arms, brackets - research the pro's/con's). Longer swaybar links/disconnects. Bumpstops to keep the tires from moving up into the flares. Longer brakelines / brackets. Gears for both axles. (may as well consider installing traction at the same time.) Put money aside to replace the front driveshaft, balljoints, the rest of the steering components, etc, etc, etc...

But yeah, the only thing you actually NEED is the coils or spacers.

02-01-2019, 06:22 AM

---
Might also want to look at either a D44 for the front or dumping some money to beef up the 30 you have. Sleeves, truss, gussets on the C's. 37's are quite a bit of stress to put on that axle.

02-01-2019, 06:39 AM
JK Jedi

---
I agree with what nthinuf already said.
What I would stress that you don't NEED 4" to run 37s, and tbh, the higher you go the less favors you're doing yourself. IDK why everyone tends to think higher is better. You may like the "look" of higher, but it gets less functional as your center of gravity is going up. You are actually just decreasing performance IMO.
So, with 37s, you need to think about these things:
You'll most likely have to regear, which means adding a programmer as well if you don't already have one

This could lead you down the whole "do I want to add lockers or not at the same time

Which will lead you down the rabbit hole of WHICH lockers

Which could lead you down the path or replacing axle shafts to match new locker spline count
Which could lead you down the path of is putting money in to a D30 worthwhile

​​​​​​​You'll probably need new rear axle shafts as the factory flanges tend to bend easily with 37s (even if you don't off road)
3.5" BS is most appropriate for 37s, and you're not going to find many non-beadlock options with that BS

You can indeed run spacers…..those can get to be a drag if you do much work on your jeep IMO

If you have spacers, many tire shops won't touch your vehicle. This depends on location usually.
If you have beadlocks, many shops won't touch your vehicle. This depends on location usually.

You'd better factor in some expensive ball joints, Rare Parts would be your best option

Factory BJs ain't gonna hold up, and if you wheel, odds of TF, Synergy, Alloy….they're all a crapshoot
I cannot recommend DT at all. You can search up my thread on rebuilding those….not worthwhile.

Plan on new drive shaft if lifting 3"+, or at the VERY lease rebuilding a factory shaft using the TF high angle rzeppa.

Boot at the TC-side CV joint will rip, spew all the grease, and the joint will dry out leading to early failure

With 37s and 3"+ lift, you really need to have a full set of control arms IMO.

Especially in the rear, you're gonna want the ability to move the axle back again as the tire really creeps forward in the wheel well

Even with significant trimming of the pinch seam, which you're gonna have to do, you'll probably want more clearance

Pushing the axle back will probably require you to relocate or remove your rear sway bar back an inch

Relocating your rear sway bar will probably force you to address the factory muffler

If you relocate the muffler to between the axles, you'll need to address evap canister

If you wheel, you'll probably need to address your exhaust crossover up front.

Exhaust spacers are a bandaid IMO

You may likely want to upgrade your brakes, and will be deciding between big brake kits and big rotor kits
You'll address every steering and suspension component as already mentioned. TR, DL, TB, control arms, springs, shocks, bump stops, sway links, brake lines, etc.
Probably want to add C gussets at the very least if you don't have em already
I mean, the list goes on and on. I know there's more stuff I'm forgetting at the moment…..this is just quick "off the top of my head" stuff. In all honestly, if you're building a 3.5" lift with 37s, you need to be expecting to commit ~$10k or more to it. You can't do it cheap or else you're going to end up with a turd that is constantly frustrating you. You just really need to consider EVERYTHING that goes in to a build, otherwise stuff is going to sneak up on you and you'll feel like you're constantly bleeding money.

02-01-2019, 06:55 AM
JK Jedi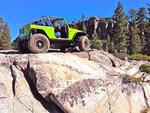 Join Date: Oct 2010
Location: Southwest Reno, NV
Posts: 5,197
Likes: 0

---
He said "need" but also says "safe and durable". Safe and durable is pretty much everything under the tub with 37's and 4" of lift. Resharp001 nailed it in his post and the $10k+ cost is no lie. IF you are looking at $500 4" lifts then quit as they don't even come close to what you need for a reliable safe set up and will spend endless time and money getting it to drive well. Gears, wheels, and driveshafts are often overlooked things you need running 37's on 4" of lift. That right there is $3500-$4000. Most people that do gears will also add lockers which can run you $500-$2k. You don't need those but they will offer you one of the biggest gains in pereormcane if you go off road.

02-01-2019, 07:38 AM
Super Moderator

---
Resharp nailed it.
Your stock D30 front axle isn't worth putting any money into. Don't think slapping an Artec armor kit on it will suddenly make it a tank...it won't. 4" is also a TON of lift, and will only complicate this further. You should ideally stay around 2.5-3" of lift.
I'm assuming you're new to Jeeps? Don't think that you need 37's, because you don't. A solid setup rig on 35's will go almost anywhere a rig on 37's will go. Start with 35's and build your way up. As you wheel it, you'll find your limitations. Assess and upgrade when the time comes. $10k may be a slightly conservative figure.
To bounce off what resharp said, you'll need:
A proper front axle that can actually handle your 37's. A D30 will hold for some time, but it's like putting a bandaid on a cut that requires stitches.
3.5" backspaced wheels - cost too variable
Full set of control arms ~$1000-1200

At the LEAST you need the front lowers, rear lowers, and rear uppers. Over 3" you really should have them all though.

Trim the rear pinch seam AND the rear wheel well

Especially when you re-center that rear axle with adjustable control arms. You'll need to flex it out and chop/grind the rear part of the wheel well to avoid cutting up your tires.

Your rear driveshaft will grenade real quick. Factor in a new 1310 (Adams, Tom Woods, etc.) ~$450
Front driveshaft will fail pretty soon when you flex it out/wheel it. Same deal as above ~$450
Extended brake lines ~$130
Chromoly rear axle shafts (Ten Factory, RCV, G2, etc.) ~$450-1000 depending on brand
Gears (4.88 or 5.13 would be most appropriate) ~$1000-1400
Lockers (would be foolish not to do this with the gears) ~$1000 each, so x2 = $2000
Raised rear track bar bracket ~$90-140 (weld on vs bolt on)

+ cost of welding labor if you don't weld. Yes, you should go the welded bracket route.

Front and rear adjustable track bars ~$300
If you go 4" of lift, you'll need to address your steering. Drag link flip kit (with the raised track bar bracket) ~$250-350

+ cost of welding labor if you don't weld. Yes, again, you should go the welded bracket route.

Beefy tie rod to accompany your new drag link ~$200-500
Ball joints ~$200-600

​​​​​​​If you're dead set on 37's, you'll want the Rare Parts. So $550-600 is the more realistic figure.

Coils, and shocks that are the proper length (i.e. don't buy shocks based off "lift height," MEASURE!!) ​​​​​​​cost too variable, but if you set it up right it'll be ~$700+
Bump stops ~$cheap
Quick disconnects ~$140
Some kind of programmer (AEV pro cal, Superchips, etc) ~$150
Total (on the conservative end), not factoring in the cost of tires, wheels, or a new front axle: $7,550
Optional, but highly recommended:
Artec armor kit (truss, gussets, CA skids) - ~$300

​​​​​​​+ cost of welding labor if you don't do it yourself

Rear axle truss ~$100-180​​​​​​​

​​​​​​​+ cost of welding labor if you don't do it yourself

​​​​​​​Oil pan skid of some sort ~$140
Differential covers (front and rear) ~$200
New total: $8,300
+
Average cost of (5) 37's: $2k
5 normal wheels: $ variable
=
$10k +
I have an Excel spreadsheet for my build that I can personally share with you if you would like. Just PM me your email. At the end of the day, I'm just under $20k in the hole in parts. Don't forget all the other things you'll want like bumpers, armor/rock sliders, a winch, on-board air, tire carrier, etc. Still, unless you're jumping to 60's (junkyard build or brand new crate axles)...there's a pretty solid chance you'll still break something. Nothing is bullet proof.
---
Last edited by BoraBora; 02-01-2019 at

07:42 AM

.

02-01-2019, 06:07 PM
JK Newbie
Join Date: Jan 2019
Location: Colorado Springs, CO
Posts: 15
Received 0 Likes on 0 Posts

---
One thing most have forgotten, you will need to start looking into a new upgraded steering gear box. You have a good chance of breaking the sector shaft off at the pitman arm if you aren't careful

02-02-2019, 12:19 PM
JK Super Freak
Join Date: Nov 2012
Location: East Bay, CA
Posts: 1,164
Likes: 0