Adjusting stock fog lights

02-10-2019, 09:06 AM
JK Newbie
Join Date: Feb 2019
Location: Baltimore, MD
Posts: 2
Liked 0 Times in 0 Posts

Adjusting stock fog lights
---
Can anyone tell me how to adjust (raise up) the light pattern of stock fog lights on a 2017 Wrangler JK? Any specific specialty tools required ?

Thank you in advance. -Tim-

02-10-2019, 10:53 AM
Super Moderator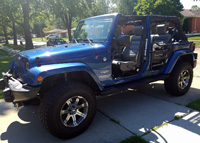 ---

02-11-2019, 07:46 AM
JK Jedi

---
Are you wanting to adjust them cuz it's hard to see anything with factory headlights? If so, adjusting fogs is only gonna do a tiny bit, but could also just start blinding oncoming traffic. Is it maybe time to consider a headlight upgrade of some sort instead? We have some of the worst factory headlights ever.

02-11-2019, 08:05 AM

---
I just did the cheap headlight upgrade for now and put a set of Silver star Ultra bulbs in. It is a big improvement over stock. I am weighing the various options for upgrading them further.

02-11-2019, 08:38 AM
Super Moderator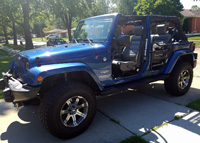 ---
I did the Amazon highly rated LED LX-Light headlight/foglight upgrade. I feel it's the best value upgrade out there and includes matching fogs. Been running them for just over 2 years, DOT approved, no problems.
Procomp LED headlights are also highly rated for the price but you would need to purchase fogs separately.

02-11-2019, 09:27 AM
JK Newbie
Join Date: Jul 2017
Location: Ellicott, Colorado
Posts: 64
Likes: 0

---
For a 2017 there is a phillips screw that you can see while laying under the bumper. Use a Flashlight because to find the hole.
CW lowers them CCW to raise them

02-11-2019, 09:28 AM
JK Jedi

02-11-2019, 10:06 AM
Super Moderator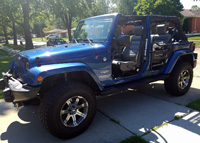 ---
---
Last edited by Rednroll; 02-11-2019 at

10:09 AM

.

02-11-2019, 05:15 PM
JK Super Freak


---
The fogs have a wide beam aimed low, and not designed to reach out very far. Suspect they'll loose too much close-up light if aimed up that much, that's been my experience with other vehicles.
A quick test is to drive up on a 2x4 or similar with the front tires at night and see how they look in a parking lot or driveway.